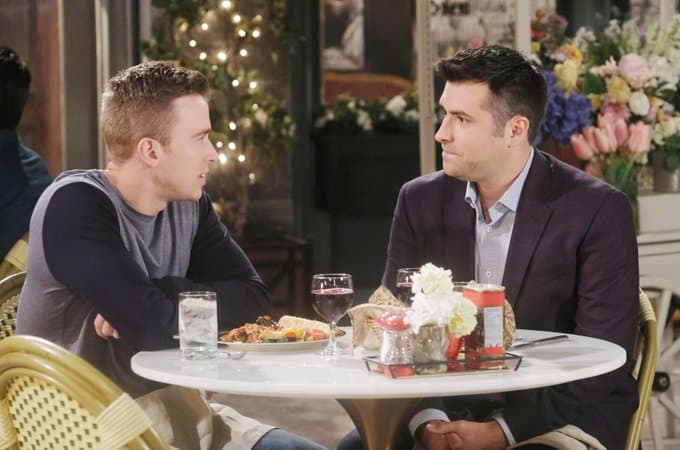 Days of Our Lives fans know Hope is struggling. She's an emotional woman when she's not in her right frame of mind – which she was most certainly not in the time leading up to the Princess Gina taking over her body. She was having tough time with all that was happening in her life. She was struggling, she had all but given up, and she was not herself. Then, she was really not herself. She was Gina. But, now she's back to her own mind and body, and she's learning about all the things she did when she was acting out as the other woman who she hates to name. She is struggling harder than ever right now, and it almost feels as if no one is there for her. Rafe should be, because that's been his situation for so long, but he is busy with Evan and the attorneys and Jordan's baby.
Ciara is so preoccupied with Ben being home that she cannot even figure out she's got going on in her life, but she's not upset about that in the least. She doesn't care. She's just living her best life, and she's not mad at that in the least. She's got all of this going for her, and she's happy. Hope, sadly, is not happy. She did nothing wrong, but she cannot seem to get over what she feels are all the things in her life that she did wrong. She is sad, she is unhappy, and she is not having the best time. She's got a lot to worry about, and we worry about her in turn. Rafe, on the other hand, is not happy. He's gotten some shocking news from Evan's lawyer, and he was not expecting that. He did not see that coming, and neither did we.
What's Happening on Days of Our Lives
Oh, the stories Salem could tell. Stream #DAYS on @PeacockTV this July. https://t.co/ht53KXbF3J

— Days of our Lives (@nbcdays) April 15, 2020
This looks interesting.
What's Next on Days of Our Lives
Steve has gotten his memory back, and he's ready to fight for Kayla, but will Kayla choose to be with him or stay with Justin? Watch #DAYS, weekdays on @NBC. pic.twitter.com/uMilAKmVqB

— Days of our Lives (@nbcdays) April 10, 2020
Right now, we are the only fans who get to see a new episode of our favorite soap on Fridays. While other networks are airing flashback episodes to extend their playing time of new ones, this is a soap that has a good eight months before we are out of new ones to watch. This means that we get to see a new one today, and it's going to be a good one. We hear that this is going to be a day when John has to share the news with Marlena that pertains to Orpheus. We know she has a long and tragic history with him that doesn't work well, and we know that there is nothing we can do about that. But, she's not going to be happy with what he has to say. She's going to be so upset, and we don't know how she will react.
Steve is back into his thing where he remembers Kayla, and he's not sure what is going on. He's still a bit confused about a few things in his life, but he's sure that he knows his love for this woman. Of course, he does. He loves her more than life itself, so of course he would find a way to remember this when he cannot remember anything else that is going on in the world. There is just so much of this going on, and there is just so much that we cannot handle. But, we also know that this is a situation that cannot change unless she decides Justin isn't enough.
Stay tuned for more Days of Our Lives and be sure to check out TVOvermind daily for the latest Days of Our Lives spoilers, news, and updates.