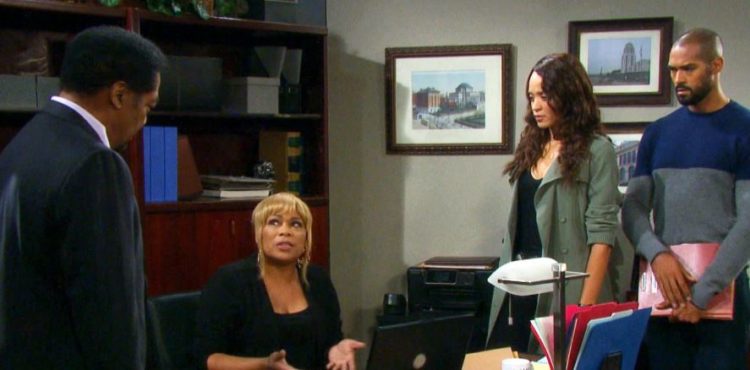 Days of Our Lives fans were beyond shocked when they heard what Rafe had to say, and it almost made what Rex had to say sound beyond pointless. We are all sitting over here in complete and utter shock about what is going on, and we don't know what to do about it. Rafe informed Hope that he is leaving town. He is leaving their home and their situation and he is going with Sami. There is nothing that will make anyone feel anymore shocked than us right now. And that's because he is leaving Hope. She's been giving him a difficult time lately with all that she's going through with her own daughter and a murderer and all that stuff, but what about the fact that their entire marriage basically ended before it even began because he went to bed with Sami right after Hope dumped him?
And that's all there is to it. He had a one-night stand with her even though he was not with Hope at the time, and now there is nothing she can say to keep him home. He's leaving Hope to be with Sami – but not to be with her romantically. He's merely going to help her. But we don't think that will be all there is to it. We do think that there will be something that turns this into something a bit more, but that's what we are looking forward to. We do not think that he will be gone forever, but we do think that he will come home to something that he was not expecting, which is probably not that Hope will end up with Ted. Though, Ted's plan has made it easier on everyone to find this point in their lives and work on it. It's been a situation that doesn't work.
What's Happening on Days of Our Lives
Melissa Reeves sits down to talk all things Jack and shares her thoughts on becoming the Horton matriarch. Then, Paul Telfer and Greg Rikaart give us the inside scoop on Xander and Leo.https://t.co/G1aBQxVJis pic.twitter.com/YAGpfb2U3S

— Days of our Lives (@nbcdays) January 19, 2019
There are a lot of things exciting about this, and we recommend you listen. We hope that more than anything we get to hear more about Leo and this future of his.
What's Next on Days of Our Lives
Eyes wander when Haley gets a new crush, and Hope meets a handsome stranger. Watch Days of our Lives, weekdays on NBC. #DAYS pic.twitter.com/wbWEJ5fhNu

— Days of our Lives (@nbcdays) January 18, 2019
Victor isn't happy with the things that are going on in Brady's life, and he's never really been. He makes life hard on Brady for reasons we cannot get over, and we cannot imagine there is much he can do at this point to make things stop. However, we are certain that there must be something going on that will work for him. He's got some situation that will make a little bit more sense than another situation will, which leaves us some hope. We are currently sitting around wondering if there is a chance he can get his life together, but we aren't sure that he can do that without some help. And Victor thinks that he is the man to offer him that help. He can make this possible for all of them if he's able to get it together. He's working very hard on a few things, and those things aren't going to make it easy on Brady.
He's going to make Brady the kind of offer he cannot refuse, but we have to ask at what expense. These kind of offers only come around every so often, and we are confused as to how and when he is planning on getting this offer to the table. And what it means for other people is really where we find our concern. What will happen when Brady realizes that what he's about to do is going to hurt people in his life? He's not that kind of man, but he's about to be. And that worries us to no end.
Stay tuned for more Days of Our Lives and be sure to check out TVOvermind daily for the latest Days of Our Lives spoilers, news, and updates.