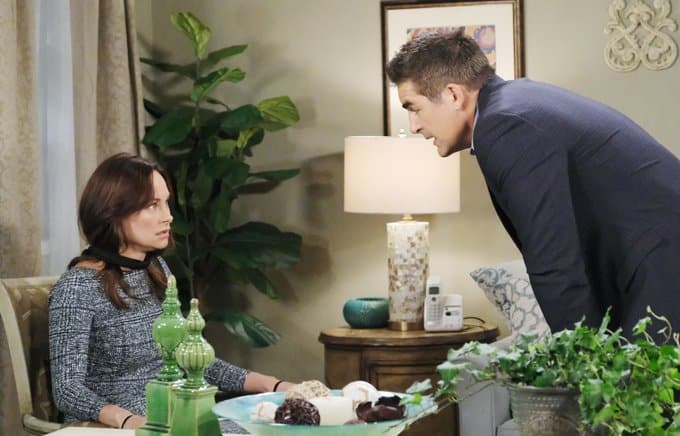 Days of Our Lives fans know that Chad would do anything and everything for his wife, and that means telling her that he might have found a way for her to get rid of her hallucinations. They've already caused her to hurt people, to do things that are not traditionally characteristic of her life and her ways, and to do things that put her family and herself into some serious jeopardy. There's a lot that he wants to do for Abigail, but he told her that there is a new treatment that might work for her, and now we just have to see how she has to focus on this and see if it works for her. Eli, on the other hand, is not happy with Gabi. But, honestly, who really is these days? He and Lani have to question her about her attack. She attacked Jake, and they can see why she would do it.
Victor is a man who has to find some forgiveness, and he plans on starting with Brady. He knew that Brady's baby was alive and well, but he chose to allow Xander to get his own way with this one by taking their baby and giving it to Sarah so that he would not lose her. Now that Brady knows his baby has been alive this entire time, it's easy to see why he is not happy or overly thrilled with any of this, and we are not all that surprised that he's not in a good place right now. But, the simple fact of the matter is that Brady is not going to want to focus on this and be very happy with Victor right now. What he did was more than wrong, and Victor knows this is the truth, and he might not come back from this one.
What's Happening on Days of Our Lives
Alright all you #Cinners, test your knowledge of all things #BenWeston & #CiaraBrady in our latest quiz on the #DOOLapp Let us know how you scored! @MrRobertScott @victoriakonefal #Days #Cinhttps://t.co/PS4POhwQA7

— Days of our Lives (@daysofourlives) May 17, 2020
Do you know what you think you know?
What's Next on Days of Our Lives
While Ciara and Ben celebrate their engagement, Brady and Sarah make an intimate connection and plot revenge. Watch #DAYS, weekdays on @NBC. pic.twitter.com/DN851fhnq9

— Days of our Lives (@nbcdays) May 15, 2020
Lani is having a good day. She is getting to do something today that she's been wanting to do for some time now, and that is arresting Gabi. She knows that she attacked Jake and that she's been up to things that are no good, and she's so happy she gets to do this after questioning her about it and seeing her lies. But, that's not all. It might not be a good day for Gabi or Lani, but it's a great day for Ciara, who gets to plan her wedding to Ben. She's working on it already, though we know there is a good chance she will find that things are a lot more difficult than she thought.
Brady is not going to forgive Victor very easily, if ever. He is playing hard ball all the way through this time, and he's not going to give up or give in. This man took his baby from him and lied, and that's not something he can just forgive. Xander is horrified that Sarah left him, and he is not sure she will ever forgive him. She probably will not, to be honest. What he did was horrible, and it brought her more pain than anything else, and now she's just crushed that this pain is a part of her life. He's not going to find her forgiveness. Meanwhile, we also know that Sonny is asking Evan to come clean and tell the truth, but we don't think that he will do that with things currently the way that they are.
Stay tuned for more Days of Our Lives and be sure to check out TVOvermind daily for the latest Days of Our Lives spoilers, news, and updates.