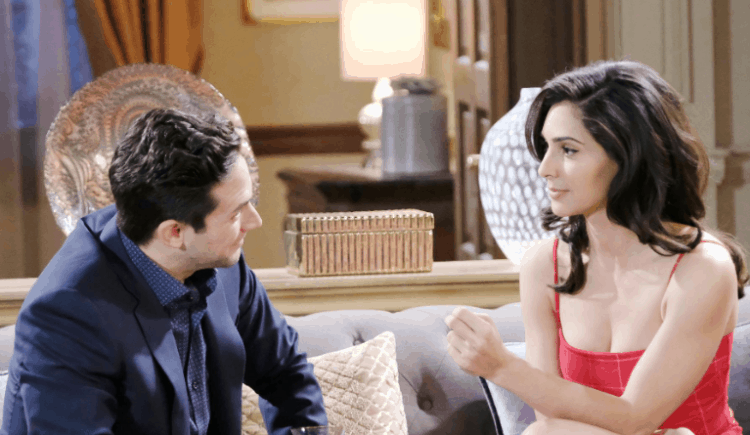 Days of Our Lives fans are not sure what to think after last week. For one, we know that we saw something in Xander we never thought we'd see — ever. He was nice. He was kind and compassionate, and he did the right thing. Maybe this is how his life is changing. After all, we did give Ben another chance after spending years hating him with his evil, murderous ways. Now he's basically our favorite character on the show. If we can go there and do that for him, why can't we all sit back and focus on things that are a little bit more spectacular? We don't know, after all, how anyone can change so quickly and suddenly, but love will do that to you. Of course, Ted is not a nice man, either. So, perhaps this is just a moment of bonding between two mean guys. We don't know.
We also saw that Kate overheard that Ted is dead and that Nicole is behind it. She has no idea that Nicole is Kristin, but we suspect that there is nothing but a moment for them to figure things out and get this together. We do think that we might just sit here and see them figure this out before much longer. Ben and Marlena had an interesting conversation about Claire, who had an interesting conversation with her own father. This is happening all while Tripp and Ciara are in the middle of focusing on things like setting up Claire to get her to do something that will get her in so much trouble she will have no choice but to leave them alone for the rest of their lives. But, we do wonder if their plan will end up getting them in more trouble than even they thought.
What's Happening on Days of Our Lives
.@ChandlerMassey reflects on his role as an LGBT character on #DAYS this #PrideMonth.

Listen to the latest episode of Inside Salem: https://t.co/9vlZu5XJZ3 pic.twitter.com/aKeVYBr05r

— Days of our Lives (@nbcdays) June 28, 2019
Love this!
What's Next on Days of Our Lives
This year, the big fireworks are in daytime. Watch #DAYS, weekdays on @NBC. pic.twitter.com/nMcPY6UIyk

— Days of our Lives (@nbcdays) June 28, 2019
Claire lost her mind, and she did it because Ciara and Tripp sent her over the edge. Is this what they were looking to do when they set her up to find them in a comprising situation with one another? Were they expecting to see things turn out the way they did here, or did she have a clue she would end up being held hostage by her insane niece? We aren't sure what she thought might happen, but she's a hostage now, and it's not the first time that this has happened to her — and it is not the first time that Claire has tried to kill her. But, now she is a hostage, and she is afraid for her life. She's got something to look forward to, though, as so many people know what is going on with Claire at this point.
For the record, though, we aren't sure she could really kill her. Ben and Marlena and Hope are all desperate to find the girls, and we feel like this is a scene we've all seen before. They've all been here in the past, and they all know that she's dangerous. Ciara is in danger, and we know that they might be her only chance. Can Tripp give them any information about what happened, or will he keep his mouth shut for fear of making things worse or getting himself into trouble? We are not specifically certain how he will focus on this one, but we do know that it's going to end up poorly for all of them.
Stay tuned for more Days of Our Lives and be sure to check out TVOvermind daily for the latest Days of Our Lives spoilers, news, and updates.