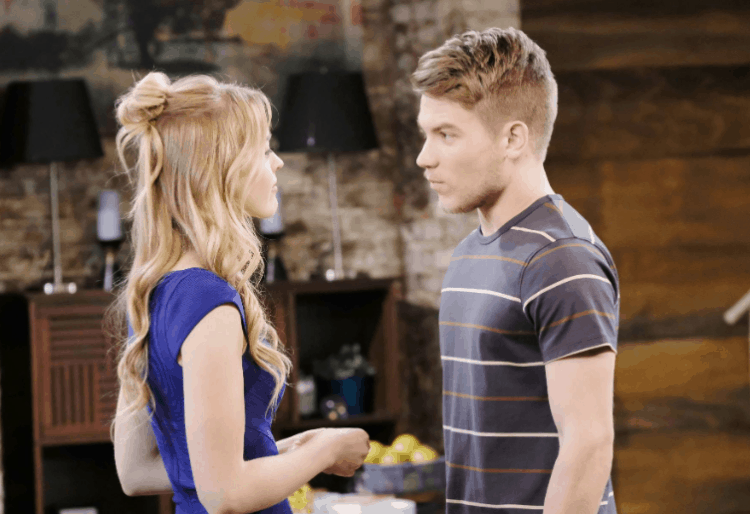 Days of Our Lives fans are always looking for a new start to a new week, and this week proved to be kind of interesting. It's not new by any stretch of the imagination, but it is something we can see working in some way. You see, we got to see that Sami take her concerns to Nicole. She's not all that amused that she is treating Eric the way she is. Ever since her daughter was killed in the car accident, she's been blaming it all on Eric and ruining his life with her bad attitude. But, she's not really Nicole. No one knows that, of course. She's really Kristen, and she's someone who hates Sami with a passion, and that is a feeling that is more than a little bit mutual. However, there's a lot more than that going on around here. For one, we can see things unfolding in other ways, too.
She confronted her, and Nicole did not like that. She's already made her mind about taking care of Sami, and we wonder if she will bring that to the attention of Xander before much longer. But, then there is Xander and the fact that he is not doing what she asked of hm. She asked him to get rid of Ted once and for all, but Xander has him captive and they are bonding. They are forming a strange friendship, and he's not going to kill his new friend. That might be bad news all around for Nicole/Kristin, but she doesn't know it yet. She doesn't know that some things are not going her way, but she will be furious when she finds out. On that note, though, we also want to know if there is a chance that this is how she will end up caught in the act.
What's Happening on Days of Our Lives
#DAYS star @JreynoldsJames reflects on his time working with the late, great Peggy McCay. https://t.co/lO0SGFfRBM

— TV Insider (@TVInsider) June 20, 2019
These are beautiful memories.
What's Next on Days of Our Lives
Ben, Ciara and Tripp hatch a plan to catch Claire in her lies — by making Claire very jealous. Watch #DAYS, weekdays on @NBC. pic.twitter.com/xwxjeNAJrE

— Days of our Lives (@nbcdays) June 21, 2019
Kate is about to hear something that will shock her into nothing you can ever imagine. We cannot wait to see what it is, but we assume that the conversation she overhears is something that will send her into a tailspin because no one knows about it. Is this something about Nicole? We can only assume since this is the one thing that seems to be going on that no one is aware of just yet. But, it might be more like what is going on with Ted since there is a lot of that going on, too. But, for now, we can only hope that we get to see a little more of this before it actually happens so that we can have a little clue about what is going on and how it might end for this.
Eric is doing something that he needs to not do, which is marry Rex and Sarah. He's going to agree to be their officiant even though he wanted to be with Sarah himself. Rex told Sarah he was ready to this right now, and she agreed mostly because she's not sure things will ever work with her and Eric. And we have to agree with her, but that's still not a great reason to get married. On that note, Jennifer has a conversation with Jack that might change his life. The serum has been created thanks to the location of the diary, and she wants him to take it and get his memory back. Will he do that? Or is he happy where he is in life?
Stay tuned for more Days of Our Lives and be sure to check out TVOvermind daily for the latest Days of Our Lives spoilers, news, and updates.