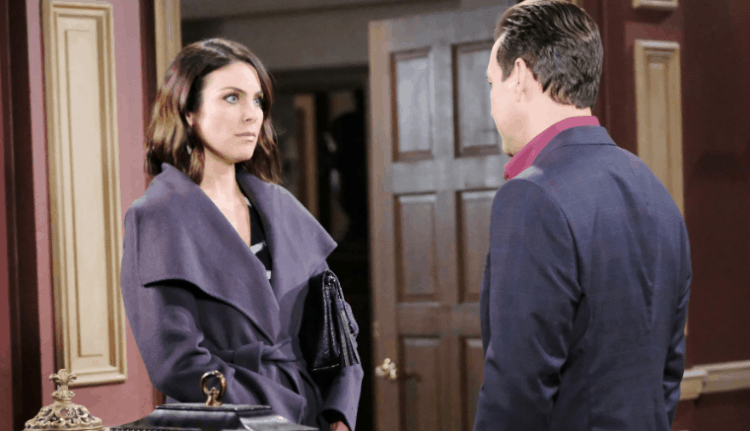 Days of Our Lives fans were not surprised that Marlena confronted John. They might be one of our favorite couples, but that doesn't mean that we don't get this in every manner of speaking. We know that he knows that he is the father of this evil young man, and we know that his wife is not going to be amused by this no matter how much time passes. There is a lot that she is free to be mad about, but the fact that he knew this might be true and said nothing to her says very much to her about his honesty, and we wonder if they can come back from this in any way. There is a huge divide here, and she might not be okay with the marriage they have if her husband is willing to lie to her about something this serious. Will they make it?
Rex found something awful, and we know that this means Chloe is now certain that someone is following her. She thought it might be true, but now she knows it's true. She knows that this is not something she can just change, either. She's unhappy about a lot, but mostly about the fact that someone with a gun is following her thanks to the fact that Rex found him and made her aware of it. It's not good news for her, but we don't think there is much else we can do at this point but sit back, watch, and make it all seem like a situation we can get on board with. Who is it? What do they want from her? Are they trying to kill her, or are they trying to get to something she has or that she knows that might not make sense in the moment?
What's Happening on Days of Our Lives
Is it really even work when your coworkers are friends? #DAYS

📷: @MrRobertScott pic.twitter.com/DoL8GB1acO

— Days of our Lives (@nbcdays) March 2, 2019
We vote no.
What's Next on Days of Our Lives
Stefan and Chloe share a passionate first kiss. But is Gabi jealous? Watch Days of our Lives, weekdays on NBC. pic.twitter.com/hDKLvtzTx2

— Days of our Lives (@nbcdays) March 1, 2019
Brady is not going to stop until he can get someone to help him take down Stefan, and we have a feeling that seeing Stefan spending so much time with Chloe, the woman with whom he himself has been bonding with lately. She's into Stefan now that he has saved her life one time, and that's not a thing that Brady is very happy about. And he wants to make it his mission in life to take down Stefan now, but he's not sure how to do it without any help. That means he's about to find an unlikely ally in this situation. He's going to ask someone who also hates Stefan a lot – Gabi. She's a hot mess who has ruined her own life over the past few months, and that makes her a perfect ally for Brady.
Will she willingly accept his offer to make this a new thing in their lives, or will she want to do something else – like focus on her new business? She's not been very lucky with all the moments of trying to take people down lately, and we cannot help but wonder if there is something else going on there. Are they going to have some issues to work through that might just make them all more frustrated than they already are, or will they have to do something else in the meantime? We think that they can make this work, but we aren't sure this will be their best light. Maybe she will help, maybe she will not. But he won't stop trying.
Stay tuned for more Days of Our Lives and be sure to check out TVOvermind daily for the latest Days of Our Lives spoilers, news, and updates.