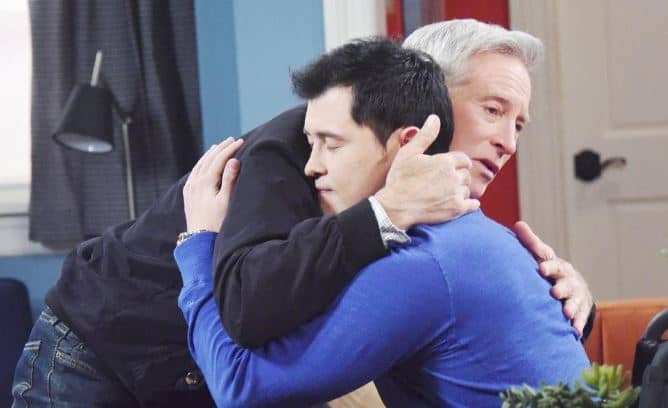 Days of Our Lives fans know that there are always a little dramatics going on in the lives of the people who reside in Salem, and that's all right. One of the most dramatic moments to date has been the appearance of Stefan who came in to tell the world that he is Stefano's son, he's Chad's brother, and there is a lot going on in his life that he wants to not share, but take over, with the entire family. He's been a mess in so many ways, but we've enjoyed a lot of it. But while he's been here doing nothing but being an unlikeable and unsavory character, he's also been someone who has focused a lot on himself and his brother's wife. And he's not made many friends – just people who owe him and want things from him. But that's not all. He's also found a way to make some seriously questionable decisions, and that's been his life.
We also saw that Sonny got to come home and be with Will, even if his grandfather is totally and completely against all of it. It's been a real situation for everyone, and we like that. But we really liked seeing that dead Leo is not dead. He's back, and he's not ready to let Sonny have the life he wanted to have. They were going to get married, and he has to do it or else things will only get worse for him. Sonny is currently unsure he can focus on his time with Will in any capacity, but he will certainly look for a way to get out of this mess he's in – of that we are certain. But we don't know how much he can handle before he breaks to some degree once again. He's only so strong.
What's Happening on Days of Our Lives
Thank you @MarciMiller for your stunning portrayal of Abigail. And Gabby. And Dr. Laura. We asked a lot you and you always delivered. Wishing you the best in all your future endeavors! ❌⭕️❌⭕️ #days pic.twitter.com/WWUC9bPUwx

— Ron Carlivati (@carlivatiron) November 20, 2018
We love this beautiful thank you and heartfelt sentiment. We also miss her, but we know that life must go on and the show must do the same.
What's Next on Days of Our Lives
Will and Sonny reunite but get a shocking surprise. Plus, Ben and Ciara share their first kiss! Watch #DAYS, weekdays on NBC. pic.twitter.com/OAtDLcIqTi

— Days of our Lives (@nbcdays) November 21, 2018
Ben needs a job. He's going to get one, too. And it turns out that he's going to get one because no one will give him one. It's not really a shocking mystery why he is being repeatedly turned down for the jobs he keeps asking to have, though. He's kind of an ex serial killer with mental health issues that no one wants to deal with. He's not the kind of man who has a lot more than that to offer, and we do appreciate that about him. But, it also turns out that some people just don't have much else to do in their lives but focus on the past. And that means he cannot get a job. But he will find one by asking someone who doesn't know much about him, who doesn't care about things like rules and laws, and someone who will not always make the popular decision because he simply doesn't care.
And that is Stefan. He wanted to see if he could find a job with Chad, but it seems that being there to hurt people so that he can get a kidnapper some help is not really a job qualification that most people consider a good one. But that's okay. He will find something with Stefan if we can predict that's going to happen. He will find a job around here if it kills him because he has a shot to make a relationship with Ciara really work. And it won't work if he's not in town to pursue it. So he needs a job here.
Stay tuned for more Days of Our Lives and be sure to check out TVOvermind daily for the latest Days of Our Lives spoilers, news, and updates.