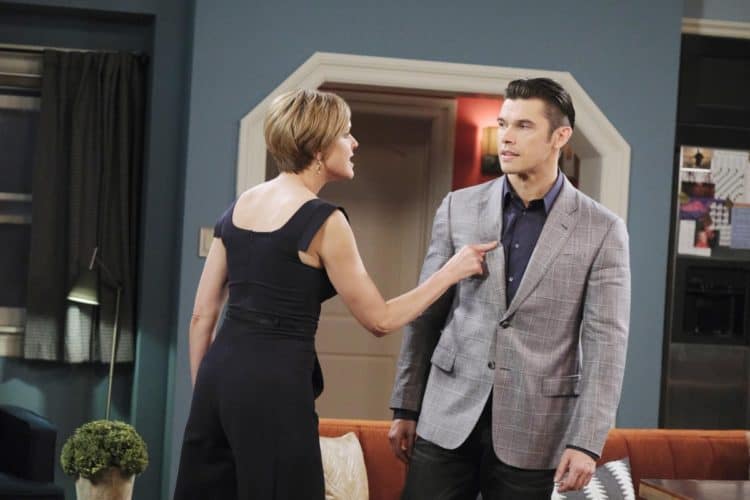 Days of Our Lives fans aren't sure what Marlena and John are going to do with what they know about Hope. They know that she's been through a lot, that she has a lot going on, and that she is not herself, but do they know what is really going on? We know what is really going on, and we know it's not good news. We know that Rolf got Hope, and that he's getting what he wants from her life and all that is going on for her. We just don't know if they can figure this out in time to save her or will they all allow this to end in a sad situation for everyone? Jordan is still on the loose, Ben is tempted to do something stupid, and we all worry for him now that Ciara is not sure she can trust him after what she found planted in his pocket. She should know better, but she does not.
Then there is what is going on with Rafe, who is finding that Jordan seems like a person of interest to him. She's a questionable person who is not living her life the way she said she would live it if she was able to become free. He hoped she would change, but it seems that things are not going to work for them. There's a lot that might not make sense to him yet, but it will make sense in the long run. It will all work out as they figure things out a little more each day, but we think that Ciara has some bigger problems to focus on right now. We think that they have to focus on her mother, and she's not sure she is able to right now. She's a mess, but she's not focused.
What's Happening on Days of Our Lives
In the latest #DAYS, Rafe learns he was poisoned.https://t.co/ZsCmioRrzb pic.twitter.com/nrkzzfGCb5

— Days of our Lives (@nbcdays) October 30, 2019
But when will he learn who did it?
What's Next on Days of Our Lives
Marlena drops by unexpectedly and catches Eric and Nicole in an intimate moment. Watch Days of our Lives, weekdays on NBC. pic.twitter.com/R4PKlOtfqC

— Days of our Lives (@nbcdays) October 11, 2019
It's wedding day in Salem, and Lani is hoping for the best. While she is excited, she is clearly not as happy as a bride should be. She knows that things might not work for her and for Eli as they are dealing with Gabi in the background, and that makes her worry so much. She knows that this woman might ruin her day and take her happiness from her, so she has to find her and ask for some forgiveness. She is going to try and compromise with her, but we don't know this will work. Gabi is hurting more than she has ever hurt in her life, and she's not willing to compromise. There is nothing in life she wants more than to see Lani miserable and upset just like she is. We do not see this working for her.
But, then there is Xander. He's going to run into Hope, and she will not even recognize him. He will begin to wonder if there is something going on, but he might just life with his confusion for a moment first. He might eventually begin to put the pieces together to figure out what a few others already suspect is going on with Hope, but he might not be on top of it. He's not someone who is always in town, so things like this might escape him until he learns of things that happened when he might have been a bit more distracted with the other things in his former life. Will this be the case?
Stay tuned for more Days of Our Lives and be sure to check out TVOvermind daily for the latest Days of Our Lives spoilers, news, and updates.