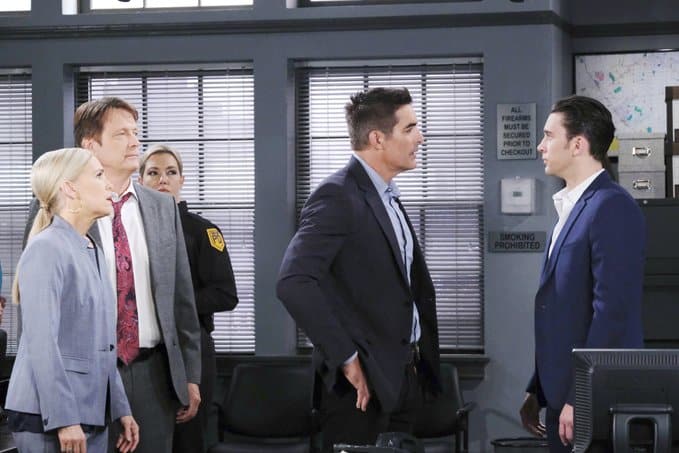 Days of Our Lives fans are not all that shocked that Evan and his family showed up for the court verdict together. They want to see him get his baby and to see him not go to prison for killing people like his baby's mother. He's not a good person, and we can only hope that things will show that quickly and efficiently to those who are fooled by his actions. Zoey, who we should quickly mention has a new face today as the old actress is out and a new one took her place, is trying all she can to make sure that people like Sonny know that Evan will win and all things will work in his favor, and that is just one of those things that works out as well as possible for all of them. But, in the meantime, there are a lot of worried people who don't want this verdict to go his way.
Abigail's family is surrounding her, working with her, and trying so hard to make things right with her. They all want to see her have a happy time and find some goodness in her own world. Her mom, dad, and her husband have rallied around her to let her know that they absolutely support her and want the best from her, and that's all there is to it. They are happy with her even when things are not going her way, even though she did just attack Kate. That wasn't a situation she saw coming, but her hallucinations are taking over her life right now. She's not sure what to do about this. Then, there is Lani, who is going to tell Eli she has to tell Rafe the truth. Gabi wants to help Jake remember, but he's not interested in her offer.
What's Happening on Days of Our Lives
It's the same dress ;) from @zara RT @Leahmo34: Looks like the dress she wheres tomorrow. #dool #days @kristianalfonso @victoriakonefal pic.twitter.com/YQWv27ZKGc

— Kristian Alfonso (@kristianalfonso) May 13, 2020
So sweet, right?
What's Next on Days of Our Lives
Ben and Ciara get engaged, Kristen confronts Sarah – and the truth about what really happened last Mother's Day is revealed. Watch #DAYS, weekdays on @NBC. pic.twitter.com/pSq5TZF6FQ

— Days of our Lives (@nbcdays) May 8, 2020
Orpheus is not a nice person, but that is not something that surprises anyone. There's nothing anyone can do about this that will change the way the world is going, but this is just the truth of the matter. There is nothing we can see that works out well for anyone, especially for Marlena at this point. Things are not going her way, and that's a problem for everyone when he has to share with her the bad news that he has coming from himself. Things are not good for them. It is too much. But, then there is Maggie. She and Sarah will have a very emotional conversation that will probably make most of us cry. It is almost too much, and we cannot seem to focus on anything other than this.
Then, there is the fact that we can see that Zoey is dying to share something with Rafe, and it's the secret that Evan is keeping. Things are so ugly for them right now, and they cannot seem to get it together. We know that Rafe will b shocked, but what will happen after that is all said and done? Will they get to see things unfold, or will they find that this is not in the plans? We cannot decide, but we know that they have to focus. Eric is about to find out what Brady did, and we can tell you he will not be overly thrilled with any of that right now, and this might be a moment that they falter significantly in the meantime.
Stay tuned for more Days of Our Lives and be sure to check out TVOvermind daily for the latest Days of Our Lives spoilers, news, and updates.