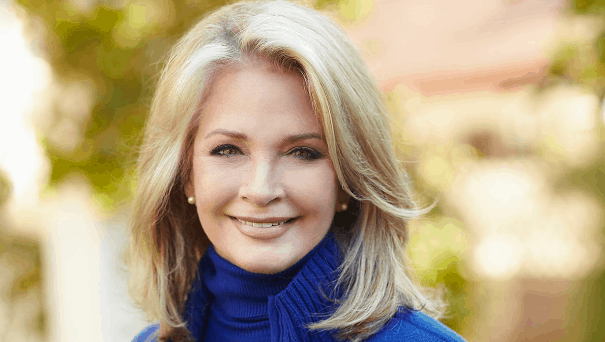 Days of Our Lives fans notice a lot happening on the show on a regular basis. Couples make up, they break up, they cheat on one another, everyone is working on stabbing everyone else in the back, and everyone is always miscommunicating things that make life very difficult. There is a lot of change around here, and it seems that nothing ever stays the same for longer than a moment. Except, of course, for one thing. There is one thing that never changes around here. The people of Salem must be drinking the same water, because there is a general rule that no one around here ages, and some of these men and women simply look better every single year. Who do you feel is aging quite well? Because we think these actors and actresses don't age – at all.
Kristian Alfonso
Hope is one of the most amazing characters on the show, and she's also someone who hasn't aged a year in all her years on the show. In fact, if we had to go out and say something about her appearance at all, it's that she seems to be getting better with age. First, she looks better than ever. Second, she's not getting better with age. She's just not aging, like, at all. She looks just like she did when she was in her 20s despite the fact that she is now halfway through her 50s. She's only gotten better because she's refined her style and gone for a more natural, subtler look. She's making the most of what she's got, which is everything by the way. She's a shining star in terms of everything she does. But she's doing something right somewhere. Her skin is flawless. Her face is flawless. Her body is amazing, and she clearly has a great personality to go along with all the other amazing features she brings to the table. We love her. How could you not?
Melissa Reeves
The beautiful Jennifer Horton must be sharing the same water as Hope, because she's not aging either. If you go back and look at her photos from when she was very young and just beginning her career in this industry, she's not aged a day. In fact, she actually looks a lot better, happier, and more put together now than she did in her 20s. She's in her 50s now, but it's not like you'd ever know. We'd like to stop and take a look at what she is doing in her life to make herself look so good for so long. She's amazing and beautiful, and she's carrying herself quite well. Perhaps they should ask her and some of the other ladies on the show to do some sort of online skincare and health question and answer so we know what they are doing, why they are doing it, and if it will work for us. We kind of all want to age as well as they have. They're gorgeous and spectacular.
Diedre Hall
Can we all just take a moment to check out Marlena and see what she has to say about her life? She's gorgeous, amazing, and totally beautiful, and she's 71. That's right, you guys, she's 71. She doesn't look a day over 50, and we cannot get over just how gorgeous she is. She's spectacular and amazing, and we are just over here handling it with all the envy we can. She's clearly spent so much of her life taking care of herself. We'd venture a guess to say that she's probably someone who gets plenty of physical activity, she eats well, and she probably spends a lot of her time doing things she enjoys. We'd imagine she keeps herself quite busy being active and having fun, and we think that will definitely play a role in how well she's aging and all she's doing for herself. She's spectacular, and we love that about her. She's not someone who will ever age poorly, and we can only hope she can share some of her secrets with us. She's fabulous, and we are just in awe of her and her talent, her beauty, and the fact that she is the epitome of grace.