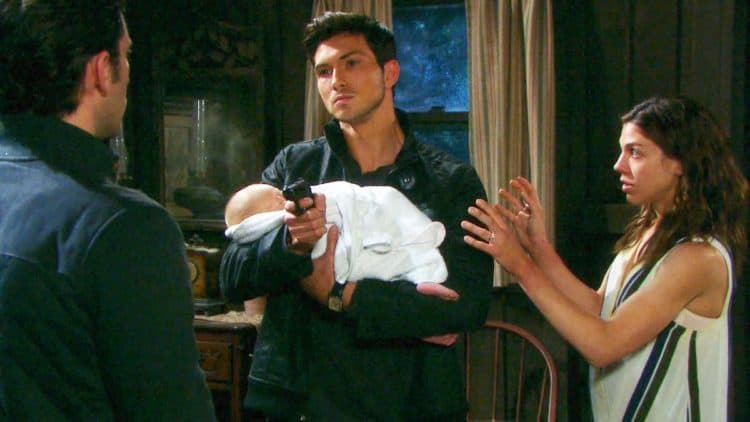 Days of Our Lives fans are sometimes so curious about what is going to go down that we forget that some things still haven't gone down in the real world. We know that there are always going to be moments in which we see the world turn in a direction we don't want to see, but we have to do what fans are asking and spend a few moments helping you see what is coming the rest of this month. You see, May is sweeps month, which means that these shows are going to bring their A game. Well, this show is. So many of the others are not yet going to see that happen since they haven't been filming in over two months. For now, though, we will keep you up to the closest date we can as to what you can expect to see go down as we come into the second half of May.
Maggie is In Danger
Maggie isn't in danger because of someone else, for once. But, we do hear that she is in danger. There is a lot going on in her life that she cannot control right now, and she's a mess because of it. The truth is that she's learning so many things that have hurt her more than anything. To learn weeks ago that she is the one who caused the accident that took the life of Adrienne was difficult enough. To learn now that this is also the accident that took the life of her newborn granddaughter was too much for her. To learn that Sarah's unborn baby died in the accident and the baby she's been raising was given to her on a lie, and it belongs to Kristin and Brady was too much for her. She's in danger because she's a danger to herself, and we hear that she might try to take her own life at some point before the month is over.
Abigail Will Not Get Better
Sadly, we know this is true. We also know the actress is leaving the show — so is the actor who plays her husband. This means that things for them probably will not get any better in the near future. In fact, we suspect that things might just get a little worse for them. They might struggle harder than anyone and anything in the near future. They may not have a chance to be happy or to get things done or to be in a good place. We hear she's skipping town, and that he is going to leave to find her. We cannot confirm, but we know it might be true and that she's absolutely not getting any better.
Brady and Eric Fall Out
This is already happening, but we suspect this will not improve at all. Brady told Kristin to take the baby and run. His baby. The baby that Sarah and Eric have been raising because they thought she was their baby. He told her to run because she's wanted for the stabbing of Victor Kiriakis in Salem, which means she cannot come back to town. If she does, she's going to jail. Brady knows that she needs to be with their baby and she needs to raise their daughter. There is so much going on right now, and we cannot help but wonder what is going on otherwise. It's a lot, and we know that Eric will be more than a little furious.
Baby David is Missing
We have some reason to believe that before the month is over, this baby is going to really be missing. We know that there have been some moments already in which Evan has orchestrated some things tha have allowed this to happen, but we have a good reason to believe that things are taking a turn and that they will come out with a little bit more information this week or next. It turns out we think that Orpheus might be behind all of this, things might not work out well, and that this baby might be in more danger than we think. Could this be what Zoey is hiding from everyone? We don't know, but we suspect that it could be.