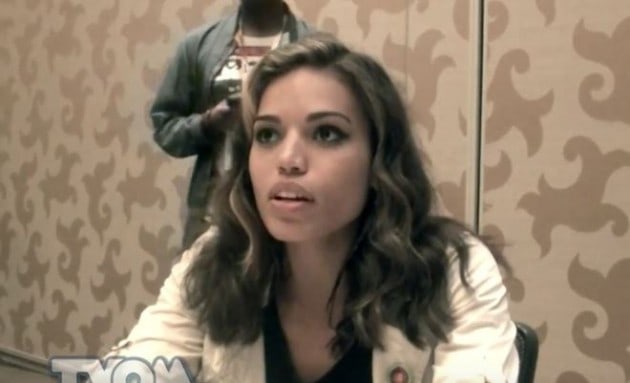 The CW/DC universe is continuing to expand its superhero franchise, and next year, the creative team behind Arrow and The Flash will be launching DCTV's first team-based series, DC's Legends of Tomorrow. In this new show, the time traveler Rip Hunter (Arthur Darvill) will bring together heroes like The Atom (Brandon Routh), Hawkgirl (Ciara Renée), White Canary (Caity Lotz), Firestorm (one half is Victor Garber's Martin Stein) and villains like Captain Cold (Wentworth Miller) and Heat Wave (Dominic Purcell) as they have to take down the villainous Vandal Savage.
One of the characters that we will be meeting on the show is Kendra Saunders, a.k.a. Hawkgirl (played by Ciara Renée), an iconic and fan-favorite figure in the DC Universe. If you looked closely in The Flash Season 1 finale, Renée made her debut in the CW/DC world as Kendra, along with many citizens of Central City, was observing the giant black hole that was created. Until the new show arrives in 2016, you will get to meet Kendra in the first half of The Flash's second season as both The Flash and Arrow will set up some of the DC's Legends of Tomorrow characters this fall before they come together in the series premiere.
TVOvermind was fortunate enough to participate in the DC's Legends of Tomorrow Press Room at San Diego Comic-Con with other news outlets at roundtables where stars and producers from the show discussed what viewers can expect from the new show. Renée was one of the people we got to talk to, and you can watch her entire roundtable interview in the video below. Here are some of the topics she discussed:
– Since she is playing a strong iconic hero, who some of her role models are, both personally and professionally.
– What research she has done to prepare for her role as Hawkgirl.
– The excitement she has for getting to play with Kendra's past lives in flashbacks and time travel.
– In terms of physical preparations, what sort of training and workout regimen she has been going through.
– Whether working in theatre prepared her to make the leap into television.
– How much the Thangarian mythology will be explored in the show.
DC's Legends of Tomorrow is set to premiere at midseason on The CW. Stay tuned for more roundtable videos of the cast and producers in the next few days right here at TVOvermind.
[Photo via YouTube]