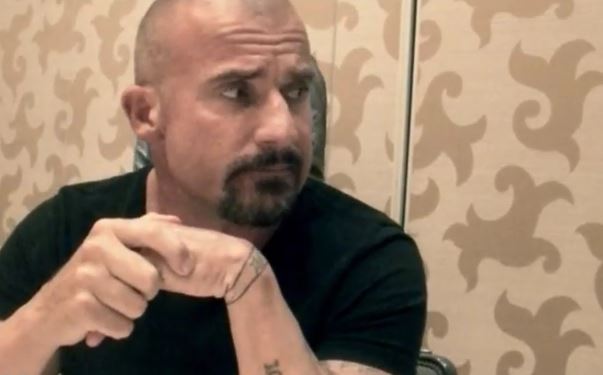 The CW/DC universe is continuing to expand its superhero franchise, and next year, the creative team behind Arrow and The Flash will be launching DCTV's first team-based series, DC's Legends of Tomorrow. In this new show, the time traveler Rip Hunter (Arthur Darvill) will bring together heroes like The Atom (Brandon Routh), Hawkgirl (Ciara Renée), White Canary (Caity Lotz), Firestorm (one half is Victor Garber's Martin Stein) and villains like Captain Cold (Wentworth Miller) and Heat Wave (Dominic Purcell) as they have to take down the villainous Vandal Savage. Purcell, who is known for his role as Lincoln Burrows on FOX's Prison Break (which also featured his DC's Legends of Tomorrow co-star Miller as his brother Michael Scofield), will not only be appearing as Heat Wave again on The Flash but will also be joining this team-up show as a series regular.
TVOvermind was fortunate enough to participate in the DC's Legends of Tomorrow Press Room at San Diego Comic-Con with other news outlets at roundtables where stars and producers from the show discussed what viewers can expect from the new show. Purcell was one of the people we got to talk to, and you can watch his entire roundtable interview below. Here are some of the highlights:
When asked whether or not Heat Wave works well in a team environment: "He only answers to Captain Cold, and we haven't explored that reason, but that will be revealed as the series progresses. There is a loyalty in there that we haven't come across of yet.  Voila!"
Will having a team around him make Mick a calmer character: "No! Look, Heat Wave is like a dumber version of The Joker. That's kind of where I see him, a very charismatic psychopath who is a pyromaniac. He is indirectly very funny. He is the type of guy that will make you laugh because he is so absurdly over the top and filled with rage. We can identify with that. Like how many times have you been in a car and just gone 'I want to kill someone!' Heat Wave actually does that. He is that guy!"
DC's Legends of Tomorrow is set to begin sometime during early mid-season of 2016 on The CW. Stay tuned for more roundtable videos of the cast and producers in the next few days right here at TVOvermind.
[Photo via YouTube]