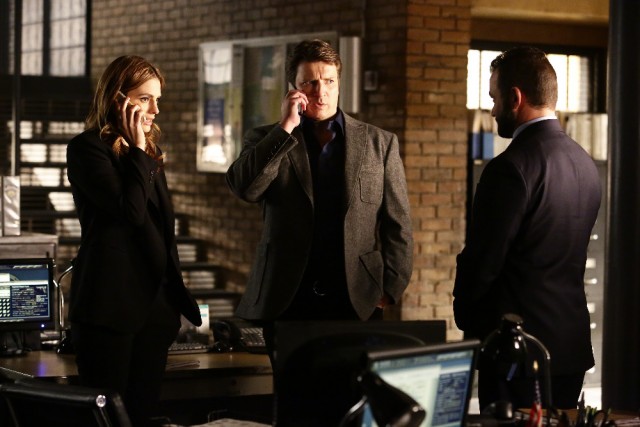 Castle 8 x 11 airs tonight, and it feels weird because I  keep thinking it's Tuesday!   That's because ABC aired a Castle episode on Sunday night!  You can read all about that here.  Tonight's Castle episode is called "Dead Red."   Here's the ABC story synopsis:
When the son of a Russian diplomat turns up murdered, Beckett and Castle find themselves in a dangerous game of international crime and punishment, with Castle having to entertain a jovial Russian security officer who winds up more involved than anyone planned.
The said "jovial Russian security officer is played by Nick E. Tarabay, Â and Richard Castle (Nathan Fillion) Â keeping him entertained is apparently a major plot point, so we can expect lots of Fillion fun! The way they first meet certainly is!
[youtube https://www.youtube.com/watch?v=d7ZPh8gKgUE?rel=0&showinfo=0]
I'm not sure what I think about this sneak peek. Don't get me wrong, I think it's cute. The Russian definitely speaks the sentiments of most Castle viewers – but he also seems a bit nuts. Â Like, is this acknowledgement of Caskett being together is important, or more like a dig at fans for complaining? That's something one can't discern from a sneak peek. Guess that means you'll have to watch to find out!
Detectives Javier Esposito ( Jon Huertas) and Kevin Ryan (Seamus Dever) clearly have gotten over their problems with their friends cheating on each other. Â Probably because Captain Kate Beckett ( Stana Katic) no longer seems to have a problem with Castle hanging around the precinct. Â (It's the same problem as last night's episode, and a problem with Lokstak in general.)
Beckett looks a bit concerned in this next picture. Â After witnessing that almost backbreaking hug who can blame her! Â Plus, Castle does have that dangerous twinkle in his eyes.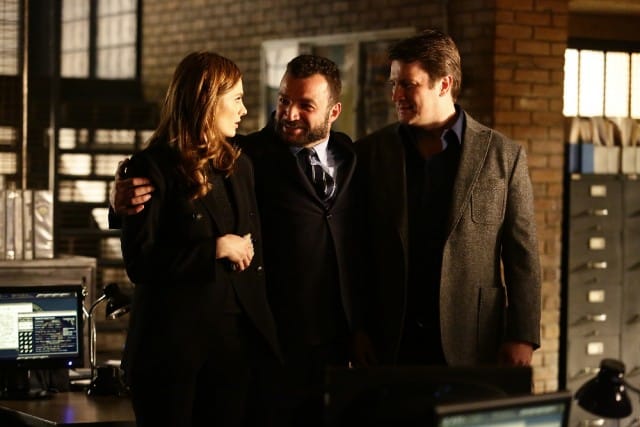 However, it also looks like the old gang may help keep Castle in line.  It's nice to see Esposito & Ryan standing with their captain!
Plus, as you'll see in this promo, the Russian guy has his own ways of keeping Castle in line!
[youtube https://www.youtube.com/watch?v=xX1CrpJmf9M?rel=0&showinfo=0]
Oh my, another person who wants to keep Castle cuffed to a steering wheel! Â Rick Castle may have met his match, this Russian could be like a combination of both Castle and Beckett!
So, I did mention something about someone coming back in this episode.   Sometimes you really need to read the fine print!  At the bottom of the press release for  Castle 8 x 11 it says that  Ann Cusack is returning as Rita – Castle's stepmother!   If Rita's back…all the fun promos and pictures could be a smoke-screen for something Lokstat related….  Or maybe she'll tell Beckett she's being ridiculous and that her charade fools no one?  Better yet, how about getting Beckett to drop the entire Lokstak thing?  That would be awesome!  Those ideas are both is unlikely, but still, a Castle viewer can dream!