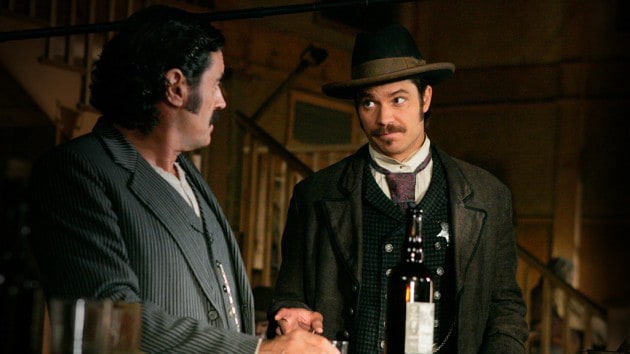 Deadwood fans, do you remember those reports about a potential reunion movie that came out back in August? Well, those reports about a film are now official, as HBO programming president Michael Lombardo told TVLine that "it's going to happen" at the Television Critics Association Winter Press Tour on Thursday.
"David [Milch] has our commitment that we are going to do it," Lombardo said to TVLine. "He pitched what he thought generally the storyline would be – and knowing David, that could change. But it's going to happen."
So when will Deadwood fans actually be able to see the movie? Lombardo says that Milch will begin writing the script for the film after he's finished with a project that he's currently working on. In other words, don't expect it in the immediate future.
With regard to reuniting the Deadwood cast and dealing with their potentially conflicting schedules, which has proven to be a problem with many TV show revivals in the past, Lombardo said that he's "going to leave that in David's hands."
"He's confident he will be able to," Lombardo said to TVLine. "The cast is unbelievably [tight]. Some casts and creators form a bond that becomes relevant for the rest of their lives. This was a defining moment for a lot of them."
As mentioned above, the first credible rumors of a Deadwood film came about back in August, when one of the show's actors, Garret Dillahunt (who is currently recurring on The Mindy Project), tweeted about a possible reunion.
So uh….I'm hearing credible rumors about a #Deadwood movie. #Everybodypray

– Garret Dillahunt (@garretdillahunt) August 13, 2015
Come on @HBO…you made @entouragemovie. Give the #Deadwood fans some closure. #Youcandoit.

– Garret Dillahunt (@garretdillahunt) August 13, 2015
Deadwood fans, how excited are you about this news, and what would you like to see happen in the reunion film? Comment below and let us know.
[Photo via HBO]