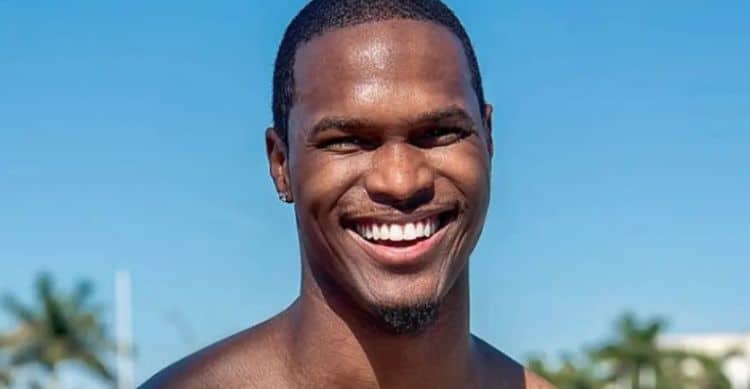 One of the things that keeps Love Island interesting is the fact that new contestants rotate in throughout the season as other people are sent home. One of the latest people to join the cast of season two is De'Andre Asbury-Heath. His good looks and confident demeanor have already gotten him a lot of attention. Even if he doesn't make it all the way to the end of the season, he could quickly become a fan favorite. Outside of the show, De'Andre is a professional baseball player De'Andre is no stranger to competition and this will hopefully give him a bit of an edge on the island. Keep reading for 10 things you didn't know about De'Andre Asbury-Heath.
1. He's An Aspiring Model
His baseball career isn't the only thing that De'Andre has been working hard to be successful in. He is also hoping to become a professional model. Although his Instagram bio lists that he is currently a model, we weren't able to track down any agencies that are affiliated with him. He does, however, have a separate Instagram account dedicated to his modeling. Being on Love Island could be just what he needs to give his modeling career a little extra push.
2. He's A South Carolina Native
De'Andre may be working towards a career under the bright lights of a big city, but he is actually from the relatively small city of Columbia, South Carolina. He attended Brookland-Cayce High School where he was a standout player on the baseball team. He hopes that one day a minor league team will be brought to the area to help give young athletes a chance to chase their dreams.
3. He Was Drafted Right Out Of High School
Unlike other professional sports, baseball allows players to to be drafted into the MLB immediately after high school. De'Andre began his professional baseball career when he was just 17-years-old. He hasn't had a longterm stint with any team yet, but he's still working hard to establish himself in the league. De'Andre hasn't shared whether or not he has plans on ever going to college.
4. He's Been A Baseball Instructor
De'Andre likes sharing his passion for baseball in more ways than one. In addition to being a player, he's also been a baseball coach and instructor for various organizations. He believes that the experience he's had at the professional level can truly help him assist other players in reaching new heights.
5. He Loves To Spread Positivity
The world is full of negativity, but that's something De'Andre refuses to feed into. He loves to laugh and put smiles on other people's faces. De'Andre regularly uses his social media to spread kind messages and good vibes among his followers. On Wednesdays, he regularly uploads positive quotes that he calls Wisdom Wednesdays.
6. He Was Also A Talented Football Player
Baseball may be the sport that has gotten De'Andre the most attention, but he was also a talented football player in high school. He was even being looked at by some colleges, however, he chose to dedicate his time to football instead. De'Andre also enjoys playing basketball.
7. He Enjoys Working With The Youth
Since becoming a professional baseball player, De'Andre has dedicated lots of time to working with young people. He is especially passionate about working with children who are fighting cancer. Over the years, he has visited several children in the hospital and invited them to his games.
8. Family Is Important To Him
De'Andre has a great relationship with his loved ones and it's clear that family has always been one of his top priorities. When he isn't busy with work, he loves to spend time with those closest to him. There's no doubt that this will definitely help him while he's on the island. After all, who doesn't want to be with someone who's family oriented?
9. Love Island Is His First Reality TV Show
A lot of times when people appear on shows like Love Island, it isn't the first time they've dabbled in the reality TV world. However, it looks like this show is De'Andre's very first reality TV appearance. But depending on how things go, it may not be his last.
10. His Faith Is Important To Him
De'Andre has strong faith in God and this faith is what continues to guide him throughout life. Although he doesn't seem to go into detail about his religious beliefs, he always adds the hashtag #GodFirst to all of his photos on Instagram. He has been doing this consistently since his very first Instagram post in 2013.