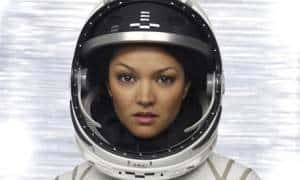 Well, Defying Gravity will be airing its 13th and final episode this week on Canada's 'Space' channel, five episodes after it was unceremoniously pulled from the ABC schedule. Sadly, there is still a demand for those final five episodes here – and the demand is being answered with silence. If ABC plans on finishing off the series for US fans, they apparently don't intend on telling anybody about it. With that in mind, we thought it might be some comfort for US fans to have the teasers for the episodes they have missed. Small comfort, I know.
Defying Gravity resumed airing in Canada first on CTV, then on Space. The final episode, "Kiss", airs this Friday.
Defying Gravity (Ep. 109) "Eve Ate The Apple"
As the Antares draws closer to Venus the mysterious secret in Pod 4 is finally exposed, revealing the incredible true nature of the space mission.
Defying Gravity (Ep. 110) "Deja Vu"
It's Election Day back on Earth but the Antares crew is still coming to terms with the awe-inspiring events that have just transformed the focus of the mission.
Defying Gravity (Ep. 111) "Solitary"
In the final hours before the landing on Venus, crewmembers of the Antares confront the loneliness and isolation of space.
Defying Gravity (112): "Venus"
It's the day of the Venus landing, a historic and dangerous event likely to alter the lives of everyone involved.
Defying Gravity (113): "Kiss"
After landing on the burning surface of Venus, Zoe walks toward a sound only she can hear, drawn by her destiny into almost certain destruction.