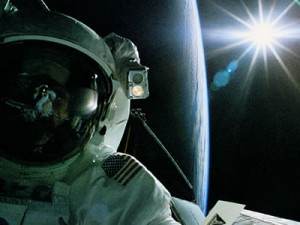 Back in December ABC stopped showing new episodes of Defying Gravity and took the show off the air with only 5 episodes left in its first season. While the show hadn't been a ratings success it had been very successful at collecting a dedicated and loyal group of fans. While ABC insisted that the show wasn't canceled, and in fact they would air the remaining 5 episodes at some point, the prospects seemed dim, even at the time. TVOvermind wrote an article on the quasi-cancellation back in September, and to this day the article still gets tons of hits from the dedicated fans still waiting to learn the fate of this great show. Well, we have some good news and some bad news for all of you.
The Bad News. Defying Gravity, it seems, was in fact canceled. If ABC had any intentions at all of actually airing the remaining 5 episodes, they seem to have changed their minds. More than likely, they weren't being honest with us from the beginning in an attempt to avoid a lot of press over the cancellation. TVOvermind has reached out to ABC for an official statement, and to get a final sense of closure on this for all of Defying Gravity's fans, but no response has been provided to us from the network. So like it or not, this series is dead where it lies.
The Good News. Despite the more than obvious cancellation of this great series, there is one piece of good news out there. Tuesday of this week Defying Gravity: The First Season was released on DVD (no Blu-ray version was released). Granted, die hard fans will be forced to shell out their hard earned dough, but at least seeing the last 5 episodes will provide a small amount of closure for such a great series. The DVD does provide some extras such as deleted scenes and a photo slide show. If you missed this series you weren't the only one. ABC marketed it very poorly, which has been a constant criticism from fans of the show, and many who did find it didn't find it until the last few episodes. So regardless of whether you're a hardcore fan or have never seen an episode, if you dig great sci-fi television shows this one is definitely worth the money.
I'll continue to wait for an official response from ABC, and post it here if it ever comes, but the bottom line is that Defying Gravity won't be seen in primetime again, in my opinion.
Purchase Defying Gravity: The Complete First Season from Amazon for $36.49.