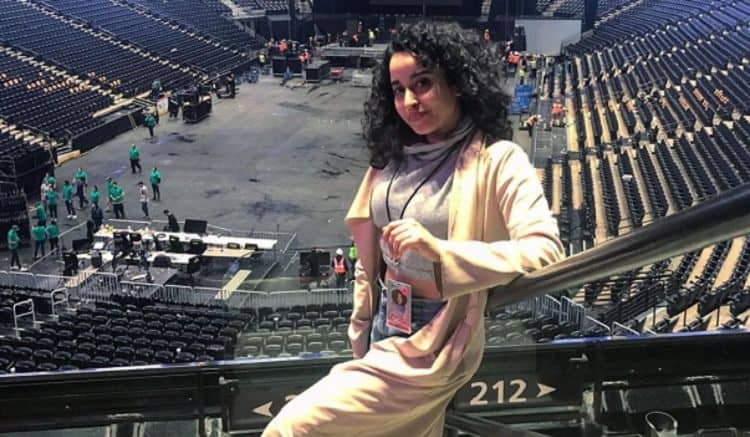 Demi Diaz is a reality television personality who is best known for her appearance on season 2 of the series "Dating Around." She joined the cast in 2019 when filming began for the dating show. It's for people who are looking to find that very special person who previously hasn't had a lot of luck in that category. Here are 10 things you didn't know about Demi Diaz to help you become more familiar with the new reality TV star.
1. She's from New York
Like many of the other cast members you'll see on the show, Demi resides in New Orleans, Louisiana. She is a transplant in the city, however. She is originally from New York City, where she worked as an entrepreneur. She continues to build her career in the New Orleans area and she is hoping to spark a special connection with someone in this locale.
2. Demi is inexperienced
Demi did disclose a little bit about her romantic history. We learned that this is her first dating experience. She had never been on a date before she joined the cast of "Dating Around." This makes her unique on the show. We get to see how she does with arranged blind dates with people that she has never even met before.
3. She is an educated woman
Demi Diaz studied at Fordham University in the African and African American Studies/Communications and Media Studies programs. She enrolled in 2011 and graduated with her Bachelor of Arts degree in 2015. She also attended The Beacon School from 2007 through 2011. She was involved in the Yearbook Committee and in the Student Movement Against Cancer during her high school years.
4. She was active in social and cultural causes in college
While attending Fordham University, Demi was involved in the El Grito de Lares club. This was an organization that planned cultural and social events that show the various aspects of Lanio culture in order to increase awareness of the Latino heritage. There was no lack of group or social interaction in her life during her college years, yet she completed her studies without the distraction of dating anyone while she was there. This tells us that she is probably a very dedicated student when she is learning, and she maintains a strong focus on her goals.
5. Diaz holds professional certifications
As an entrepreneur, Demi Diaz is a business owner. She started out right by laying a solid foundation by completing her education, but she has also obtained a few certifications along with way. We discovered that Demi is AdWords Mobile Certified by the issuing authority at Google. She became licensed in 2017. In addition to this, she is a Bing Ads Accredited Professional. This certification was obtained through the issuing authority at Microsoft. These are valuable credentials for any entrepreneur who conducts business over the internet as it boosts user confidence in the website.
6. Demi is building her career from the ground up
Diaz started her career at RocNation as a digital marketing intern for the company. She learned on the job for 7 months in 2014, the year before she graduated from Fordham University. In 2016 she was hired at Repucom, Citigroup as a field market manager. She stayed with the company for 4 months in recruiting and management of a team of brand ambassadors. Her next job was as an assistant team leader for the Hype! Agency in New York City. She worked for the company for 4 months in campaigning for Mastercard during New York Yankees home games.
7. She has a diverse work history
After leaving Hype!, Demi worked for Crazy Annies as events and digital marketing manager. She was in charge of the Uber Eats, Grubhub, and Yelp pages to drive sales for the company. she managed the activation of the pages as well as creating social media pages. She performed similar functions as a digital marketing apprentice for COOP in 2017. Demi also worked for PS Stearns Inc as a street team manager, and for Randall-Reilly as an engagement specialist. She has spent 3 years with the company and has been promoted for her professional work ethic and successful track record with the company. Each of these positions has helped her to gain valuable information and experience that helps her in her entrepreneurial endeavors.
8. She is a self-proclaimed "young workaholic"
Demi Diaz is a hard worker and she has titled herself the "young workaholic." This is likely the reason why she hasn't made the time in her life for dating until now. She has put everything that she's got into establishing a worthwhile career doing the things that she loves. After spending several years working for numerous companies, she has a good idea of how marketing in the digital world works and this is a plus as she is striking out on her own.
9. She has a 'hustler spirit'
Demi Diaz shared that she learned at an early age that you have to take what you have and create your own world. She uses her life experience and her natural talents to forge a way for herself in the adult world, which at times is a huge struggle. She feels that she owes it to her parents and grandparents to blaze her own path and to stay true to her beliefs that hard work is how you get ahead in life. She takes pride in creating an unconventional life for herself to create the life she wants. Demi believes that she can accomplish things that might seem impossible to others.
10. Demi is one to keep your eye on
Diaz is perhaps one of the most unique reality television personalities we've seen on a dating and romance show. She comes with some great life experience, although she had not been on a date up until the show. Her focus was on other areas of life. It will be interesting to see how she grows and changes with these new life experiences.