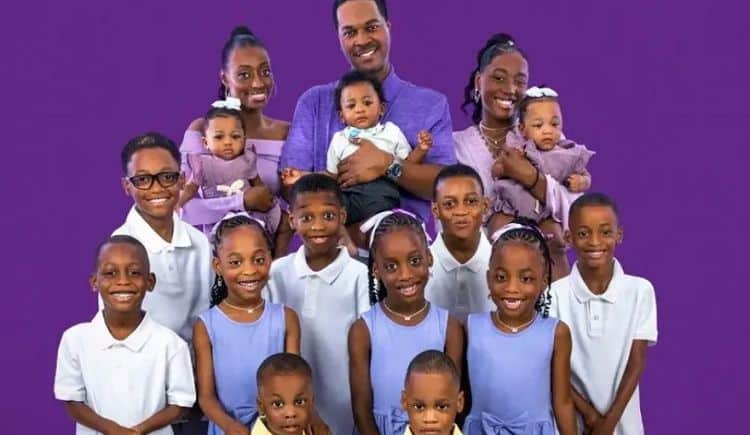 When you have a big family, you have to be organized and on top of your game. That's what life is like for Deon Derrico, father of 14 and wife to Karen. They now have their very own reality television show on the TLC network that outlines how they live their lives. The first season of the show is all about how they manage their 11 kids and the fact that his wife is expecting triplets at the same time. He's got to see her off to live in the hospital at 24 weeks for the safety of their babies, and he has to step up and handle the kids himself. What's his story?
1. He Knew He'd Be a Multiples Dad
When he and Karen first got married, they knew they wanted a big family. He was also very aware that he might be a father to multiples given the fact that his wife has more than a few sets of twins and even triplets in her family. However, they did not know that they'd have a twin pregnancy, two singleton pregnancies, a quintuplet pregnancy, and two triplet pregnancies.
2. He's Not a Pushover
When it comes to raising his kids, he is not a man who is a pushover. He is a man who has to figure things out with his wife, and they don't give their kids everything that they ask for. They require their kids to make goals, to figure things out, and to make good grades if there are things in life that they want.
3. He's a Family Man
He and his wife are big believers in family activities. They eat together, exercise together, and they spend time together. It's probably also a lot easier that way. When they are all together, it must be somewhat of a relief to know where everyone is and what they are doing in any given moment.
4. He's From Detroit
He often talks about how he came from Detroit, and even his wife brings it up sometimes in her blog. They have a great relationship with one another, and his childhood is one that allows them to learn a few lessons of their own that help him in his life.
5. His Parents Divorced
We think that another role in his life that played into his own parenting is the marriage his parents had. They didn't make it work past his 13th birthday. They divorced. His father had a construction company in Detroit and his mother opened a hair salon in Vegas. His grandmother in Detroit actually spent much of her time raising him.
6. His Oldest Daughter is Named After his Mother
His mother wasn't always with him as a child, but he is close to her. He and his wife named their firstborn daughter after his mother as a tribute to her. Her name is Darian, and his mother's name is Marian.
7. He's an Actor
When he was growing up, he decided to become an actor. He actually landed the lead in "Not Another Gospel Play," when he was younger, and he worked hard to support his career in the acting industry. It did not pan out for him, but he did make some big business moves as a result.
8. He and His Wife Own Businesses
He and his wife are business owners. His wife owned a daycare center that was named for their daughter. The daycare center is in Las Vegas. He owns Deon Derrico Entertainment, which is a corporation that houses a lot of other corporations such as acting classes and talent agencies. He also owned a hair salon.
9. He's Still Young
You'd think with so many kids in his life, he might be a bit older than he is. However, his birthday is September 16, 1983, which effectively makes him 36 for another few weeks. He's so young, and his wife is so young. They've been together since 2002.
10. His Net Worth
It's not easy to raise so many kids, but this is a family that has the means to do it on their own. Deon Derrico's net worth is approximately $6 million. They do well, and they take care of their kids. They prefer profit sharing to allowance for the kids, and they all work for what they want rather than just having it given to them when they want it. That's something we can appreciate, and we hope that they are able to instill all of that goodness in all of their kids.