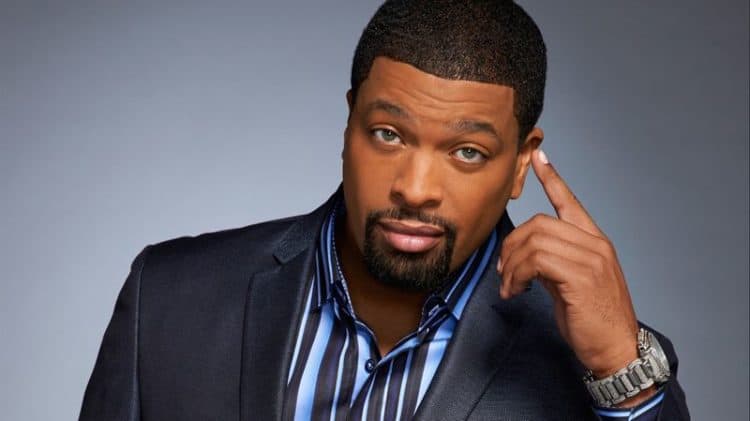 Actor, comedian, game show host… if there's a genre of entertainment DeRay Davis hasn't yet explored, you can bet your life it won't be too long before he tries. Since bursting onto the scene at the Laffapalooza Festival in Atlanta, GA, Davis has become one of the comedy circuits hottest acts, as well as a reliable host, skilled actor, and even an occasional Kanye West collaborator. Here, we take a sneak peek at 10 quick facts about the popular entertainer.
1. He has a famous brother
DeRay isn't the only member of the Davis family who's living the celebrity lifestyle- his younger brother is the singer, songwriter, and model, Steph Jones. In addition to releasing the solo studio album, Mr. Ordinary (2009), the mixtape, Gravity (Lifetape) and appearing on the compilation album, Strength in Numbers (2008), Jones has featured on the single "Celebrity Chick" alongside Ludacris, Chingy, and Small World, and made guest appearances on numerous music videos, including Faith Evans' "I Love You", Toya's "I Do", Bobby Valentino's "Anonymous", and Destiny's Child's "Jumpin' Jumpin'".
2. He's appeared in plenty of TV and Movies
Over the last couple of decades, Davis has built up an impressive number of appearances on TV (50+ and counting) and film (upwards of 30). His first appearance on screen came as Spooner in the John Carpenter directed remake of The Fog (2005). Notable appearances since have included the films License to Wed alongside John Krasinski, Semi-Pro w alongside Will Ferrell, Life As We Know It alongside Katherine Heigl, Imagine That alongside Eddie Murphy, Old Dogs alongside Robin Williams & John Travolta, Retaliation alongside Dwayne "The Rock" Johnson, 21 Jump Street alongside Channing Tatum & Johnny Depp, and All Eyez on Me alongside Demetrius Shipp Jr. and Jamal Woolard.
3. He's in a three-lationship
In 2016, the docu-series Living with Funny lifted the lid on Davis' home life. Most shocking to most was the revelation that the comic was in a relationship with not one but two women, Cocoa and Caro. The series provided a rare glimpse into what Davis refers to as a "three-lationship', as well as showing how the comedian manages to balance his career and love life with raising a teenage daughter. Davis was eager to use the series as an opportunity to show people what his unique lifestyle is really like, telling the Tribune,"We're able to show that it's not exactly what people think. It ain't no huge sex party going on. It's a real, mature relationship,"
4. He has a teenage daughter
In addition to his two girlfriends, Davis has another woman in his life: teenage daughter Brooke. Despite having previously been in a public relationship with Claudia Johnson (the relationship ended on a sour note some years ago after Johnson apparently got tired of all Davis' other women), Davis has never revealed who the mother of his child is. Judging by their friendly social media exchanges, father and daughter seem to be happy enough without a maternal presence in their lives in any case.
5. He's collaborated with Kanye West
If you've ever heard Kanye West's debut album The College Dropout, you may have heard a familiar voice during some of the skits. While many listeners were convinced the recordings were of Bernie Mac, the skits on "Intro", "Graduation Day", and School Spirt" were actually performed by Davis (although in fairness to any confused listeners, he was doing his best Bernie Mac impersonation at the time). "I'd never done a skit or anything like that," Davis revealed to Complex. "I said, 'Let me see if I can do a couple of things.' So I did a British voice thing and he said, 'That's cool.' I started doing other voices. Out of nowhere, I did the closest Bernie Mac impersonation I could do, because I don't really do impersonations and that hit."
6. He's featured in some notable music videos
Davis' working relationship with Kanye West didn't just extend to voicing the skits to both The College Dropout and Late Registration. In 2003, he was invited to appear in the music video to West's debut single, Through the Wire. Both the video and the single went on to huge success, with the former winning Video of the Year at the 2004 Source Hip Hop Awards and the latter just narrowly missing out on a 2005 Grammy Award for Best Rap Solo Performance. Davis has since featured in a number of other music videos, including Lil' Flip's "Game Over (Flip)", Chris Brown's "Yo (Excuse Me Miss), and Outkast's "Roses".
7. His first hosting gig was on Mind of a Man
In 2013, Davis landed his first job as a host on the short-lived Game Show Network series, Mind of a Man. The show featured 2 female contestants (helped by a celebrity panel of two men and a woman) competing to win a top prize of $10,000 by correctly guessing how a group of men answered multiple questions on marriage, work, relationship, and other topics. After receiving a mixed reception by critics and viewers alike, the show was cut after just one season.
8. He was a panelist on MTV2's Hip Hop Squares
These days, we may know Davis as the host of Hip Hop Squares, but back in its MTV2 days, he was a semi-regular panelist. The show, which premiered on MTV in May 2012 and aired until December that same year, was originally hosted by radio personality Peter Rosenberg. In 2016, VH1 delighted fans of the original show by announcing a new version would air in March 2017, with rapper Ice Cube as executive producer and Davis replacing Rosenburg as host.
9. He won the Comedy Central Laugh Riots Competition
Davis was born and raised in Chicago, Illinois, but after deciding his future lay in entertainment, he moved to Los Angles to try his luck at comedy. The move clearly paid off, and within a short time of arriving, Davis won the Comedy Central Laugh Riots Competition, securing a place on the Cedric the Entertainer tour in the process. The rest, as they say, is history.
10. He's a millionaire
Clearly, a career in comedy pays off. With the $1.5 million that Celebrity Net Worth estimates the entertainer to be worth, he's laughing all the way to the bank.