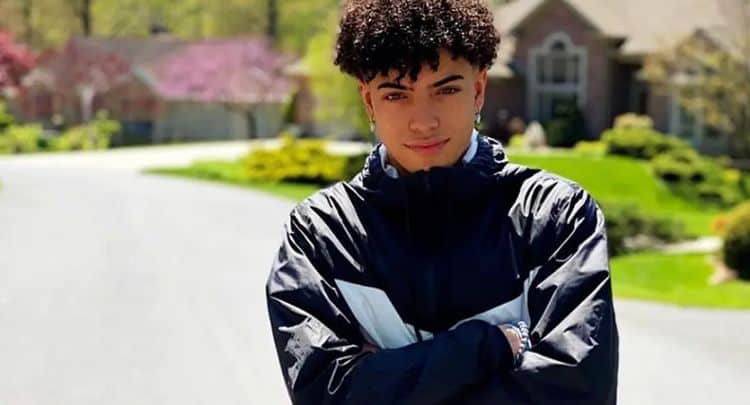 Derek Trendz probably never thought he'd be anything other than a typical teenager. However, his days as a 'normal' teen began to fade ones his popularity started increasing on social media. Between all of his social media platforms, Derek has gained over a million followers, and his numbers seem to be going up almost every day. He is well-known for the comedic skits he posts on Tik Tok and fans just can't seem to get enough. Although his internet fame is relatively new, Derek Trendz seems to be handling it well. Continue reading for 10 things you didn't know about Derek Trendz.
1. He Sells Merch
Merchandise has become a popular way for social media celebrities to build their brands and make some extra money. Derek Trendz recently launched an online store where he sells hoodies and hats with his social media name printed on them.
2. He Loves Candy
Derek has a sweet tooth and he isn't afraid to admit it. He loves eating candy and other sweets. In fact, Derek recently started working out in order to help burn off some of the calories from the sweet stuff he likes to eat.
3. He Used To Play Basketball
When asked about his favorite sport, Derek easily said basketball. He played basketball for about 7 years before deciding to devote his time to building his social media presence. He says he doesn't regret the decision to quit basketball, and it looks like it has definitely paid off for him.
4. He's Only Been On Tik Tok For A Few Months
It can take some people years to gain a large following on social media. However, Derek Trendz was able to build his brand in less than six months. He joined TikTok at the end of 2019 after another user on the platform encouraged him to start making videos. After his first view posts got a lot of engagement, he decided to continue building his brand.
5. He Loves Interacting With His Followers
One of Derek Trendz' favorite things about being a social media influencer is getting to meet and engage with his followers. He loves to interact with his fans both in person and online. You can regularly find him responding to comments on his YouTube videos, and he is genuinely grateful for all of the people who support him.
6. He's Never Had A Girlfriend
Lots of Derek's followers are interested in knowing his relationship status. In a Q&A video on his YouTube channel, Derek said that he's never had a real girlfriend. He also says that he isn't really looking for one because he has other things to focus on.
7. He Would Love To Live In California
If Derek Trendz could pick any place to live, he would choose California. Derek says the amount of opportunity that the state has to offer is a big draw for him. With that being said, it wouldn't be surprising if Derek did decide to move to the Golden State at some point his career. Lots of other social media influencers have made the move, and it's paid off in a really big way.
8. His Cousin Is Also Popular On Social Media
Knowing how to go viral on social media must run in Derek's family. His cousin, Vallyk, is also very popular on Instagram and Tik Tok. Vallyk has 486,000 followers on Instagram and 1.3 million followers on Tik Tok. Derek and Vallyk are both signed to the same management company, Artsace Management.
9. He Loves Using His Platform To Make Others Happy
Lots of people tend to find social media overwhelming because it can quickly become a place that's full of negativity and bad news. However, following DerekTrendz will give you a completely different experience. He is all about using his social media platforms to spread positive vibes. He loves to make his followers smile and he finds happiness and making others happy.
10. There Is A Petition To Have Him Canceled
Although Derek has a lot of people who support him on the Internet, he also has some people who don't don't appreciate his online presence. Someone named Sam started a petition on Change.org to have Derek 'canceled' for his alleged inappropriate behavior towards another social media influencer. According to the petition, "derek trendz threatened to violate and assault anne commzz he should be put in jail for 20 years and get his hair shaved off". The campaign has a goal of 100 signatures, and so far it has 22.