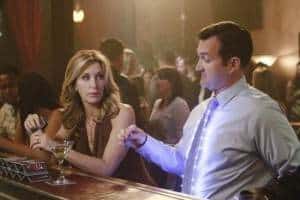 Did you miss last week's recap? Catch up right here.
In this week's episode, "The Art Of Making Art," Lynette and Tom finally make it to couples therapy. Of course, things don't exactly go smoothly. 'Stop calling it dating,'Tom argues, saying that his dates are just dinner with a friend. Lynette argues that $300 dinners aren't just 'dinners with a friend'and the two start quarreling all over again. The therapist says that emotions are running high, primarily because their separation happened with no clear outcome — were they trying to find a way to end the marriage, or were they trying to find a way to get back together? To their credit, both have no answer, and the therapist tells them they need to establish honesty with each other — whether they've dated and whether they've had sex so far while being apart. When Lynette gets upset, Tom says he wants to work things out but he knows they don't make each other happy…and if they don't explore other options, they're going to end up hating each other. Lynette storms out of the session, proclaiming she's going after the dating pool herself.
At her first PTA meeting, Gabrielle tries out her new leadership role as acting president. Of course, in classic Gabrielle mode, she has no idea how to take responsibility, showing up late due to her spa appointment and then attempting to delegate the work to other parents, who aren't as willing as she expects. When Gabrielle tries to plead with them, the others say that they have lives — unlike Gabrielle's many manicure dates. 'Geez, talk about selfish,'Gabrielle deadpans as the women leave her. I have to admit I laughed out loud at this — in eight years, the one constant of Gabrielle's character, no matter how much she's evolved, has been her blinding selfish attitude. It's my favorite thing about her.
Reverend Sikes goes to visit Bree, as she's apparently been absent from church for awhile. Bree admits that she hasn't been feeling very spiritual lately, like she's not exactly worthy of God's love and that she's lost her connection. Reverend Sikes says that it's not uncommon to feel that way from time to time, and suggests she speaks with Ben — perhaps his work with the homeless will help her establish a connection again. Meanwhile, Susan tries to connect with those in her art class by sharing her thoughts on why Zeller doesn't think she's a serious artist. Her conversation is cut short when Zeller walks in and tells the class that they will be drawing 'male form'— this, of course, is followed by the introduction of a very naked (and apparently very well-endowed) male model. Naturally, Susan can't quite contain herself, and Zeller calls her out for acting immature about the situation.
Carlos is apparently having trouble dealing with his guilt, telling Gabrielle he can't go into the living room because every time he does, he thinks about that night. Gabrielle tries to sympathize with him by telling him about the PTA meeting, and deduces hilariously that they girls acted the way they did because they were jealous of her. Problem solved! Gabrielle will simply buy them off with promises of free spas and manicures, hoping that if she bribes them enough they'll want to do her work. The women are happy to take advantage of Gabrielle's gifts — but don't feel any less bitter towards her selfishness, plotting to leave her on her own with planning, as they originally decided.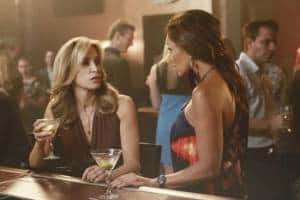 Bree goes with Ben to the soup kitchen, telling him that she's been feeling disconnected lately and wants to do something meaningful to change that. He leaves her in the hands of the chef and Bree expects she can help with some light cooking. She's slightly horrified when she finds out that none of the soup is made from scratch, and offers to make some herself. Of course, her homemade recipe is a hit — just not with the right crowd. Attracting the hipsters and college students who are so entranced with her soup that they have put it out on social networking sites, the kitchen becomes a place of popularity. Reverend Sikes comes by and tells her that he's hoping to find a place where a homeless person can get a hot meal. He tells her that the homeless haven't felt comfortable here since Bree took over the kitchen, and Bree says she was just trying to make the place more special. 'It was special,'says Reverend Sikes, until Bree took that away. She swallows her pride, telling people to leave. As she finishes her speech, Ben comes in and says that she's going to use her public speaking skills to push his low-income housing project forward.
Zeller tells the class that one cannot create real art unless they're comfortable with it, and so for their next class, he has decided they're going to paint in the nude as it will lead them to explore their art with total honesty. 'If you're serious about being an artist, you shouldn't have a problem with it,'he says. Susan tries to get comfortable with Zeller's proposal at home, telling Mike 'I want to prove to prove to him that I can be a real artist,'when he finds her making breakfast in the nude. She admits to Mike that Zeller doesn't like any of her work, and she doesn't think she's as serious as the other students. When she mentions she wants to quit, Mike talks her out of it, saying that the class is good for her and has been pulling her out of her dark place. At that exact moment, Lee comes by for a visit and Susan decides that the best way to practice her 'comfortable'nature is on her favorite gay friend. Unfortunately for Susan, the visit is Lee introducing his mother-in-law, leaving Susan extremely embarrassed when she opens the door to greet them.
Renee goes to visit Lynette, who tells her that she signed up for an online dating service. Renee is horrified at her approach, telling her if she wants to meet men, she's taking her to a bar. Lynette is hesitant due to her age, but Renee says stick with her — she'll make sure Lynette gets someone. And who could doubt Renee?
Carlos goes to talk to Mike, asking for Susan and Mike tells him he doesn't think it's a good idea for them to talk anymore. He says that if it was him, he wouldn't have dragged his wife — or her friends — into it, and he should leave Susan alone. Carlos says it just really helps to talk to her, but if it bothers Mike, he won't do it anymore. While Carlos attempts to deal with his guilt, Susan shows up to her class in the nude, as specified — only to find out she's the only person who didn't get the apparent email about the nude painting class being called off. Susan calls Zeller out for trying to embarrass her on purpose, and storms out, quitting the class. Zeller later visits Susan at home, asking her to come back to the class. He tells her that she's scared and hiding something, and sooner or later he's going to pull it out of her — doing whatever he needs to do to make her comfortable so that she can become a true artist.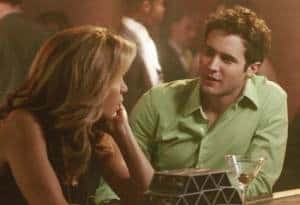 Gabrielle shows up to the night's event, expecting her plan to have worked — but with two hours to go, no one has lifted a finger in terms of setting up. When Gabrielle complains how much she went out of her way to help them, the women insist she's got it all wrong. 'You don't understand the real problems,'they say, still refusing to cooperate. In a panic, and to prove that her perfect life has got everything under control, Gabrielle calls Carlos — who, not having anyone to talk to, has been hitting the bottle hard. When he shows up, he's so drunk he can barely stand up. Embarrassed and worried, Gabrielle attempts to help him while the women sober up upon realizing that Gabrielle's selfishness is merely a way to hide her more human flaws. They take charge and begin setting up for the event themselves, telling her to take her husband home and take care of him.
Lynette and Renee arrive at the club, with Lynette still having reservations about her age. Renee realizes that she doesn't really need to be there (she does have Ben, after all) and leaves Lynette to fend for herself. After being hit on by numerous guys (including one who recognizes her as her son's mom), she leaves feeling dejected and lonely. Mistakenly, she gives her valet card to a man named Scott, who she believes works at the club. The two hit it off with their similar stories and backgrounds, and end up back at his place making out. All is going well until Lynette tries to take off her wedding ring and almost loses it on the rug. Freaking out, she realizes that she can't do this – she's still too attached to Tom and scared to be with someone else.
Meanwhile, Bree speaks out about Ben's low-income housing project, and her charming and persuasive attitude convinces the Board to give the project a green light. Delighted, Ben takes her to the land he's picked out where they're going to break ground — the land where the girls buried Gabrielle's step-father at the beginning of the season.
What did you think of this week's episode? I love how the central mystery is really affecting all of the ladies'lives, and pulling everything together each week despite the different storylines. In its last season, Desperate Housewives seems to be really intent on going out on a strong note, and if these first few episodes are any indication, we're in for quite a final ride.