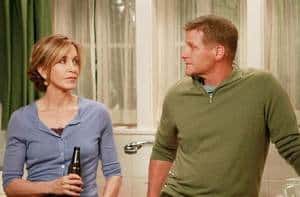 Desperate Housewives returns with all new episodes on January 8 and ABC has released a few episode synopses with some light spoilers.
January 8, Episode 8.10 "What's to Discuss, Old Friend": With a gun at her side, Bree prepares to end it all now that her friends have abandoned her and her life continues to spiral further into despair; Gaby begins to suspect that Carlos may have had something to do with Detective Chuck Vance's murder; Susan makes up her mind to go to New York to become a true artist – with or without Mike; and an angry Tom cancels his plans to go to Paris with his girlfriend when Lynette confesses that she's an accomplice to murder and may soon be arrested. (Note: this episode will run until 10:01 p.m., so make sure to adjust your DVRs!)
January 15, Episode 8.11 'Who Can Say What's True?': With Carlos still in rehab, Gaby asks for Lynette's help in wooing a high-stakes company to sign with her husband's firm; Renee talks Bree into getting out of the house and having some fun at a pickup bar; in an attempt to ease her guilt, Susan pays a covert visit to Alejandro's family to see how they've been holding up since he went missing; and Mike discovers some inconsistencies with Ben's real estate project. (Note: this episode will run until 10:01 p.m., so make sure to adjust your DVRs!)
Watch a trailer for the January 8 return of Desperate Housewives below.
Want to know when your other favorite shows return in January? Check out our handy schedule of midseason return dates.