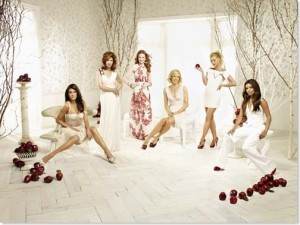 At the 20th Annual GLAAD Media Awards, Dana Delaney who plays Katherine in the show, was more than happy to talk to reporters and spill the beans on what lies ahead for her character and which characters are in line for a proposal.
We hear your character, Katherine, might be pregnant on the show. Is that true?

I heard that one today too. I think that would be really a miracle if I got pregnant. I do know that Mike [James Denton] and I have a romantic announcement.

You and Mike are getting engaged?
Possibly.

But, aren't Susan [Teri Hatcher] and Jackson [Gale Harold] getting engaged?
Yep.

And, Katherine and Mike are getting engaged too?
Yep.

So, that's a yes to you're both getting engaged?
Yes. I hope I don't get in trouble.

How does your proposal go down?
It's funny the way it goes down. Let's say that Katherine knows what she's doing.

Wait, do you propose to him?
[She gave us a coy look, raised her eyebrows and laughed.]

I'll take that as a maybe.
Actually, the proposal is very Mike-like. That's all I'll say.
Teri Hatcher chimed in on this plotline too at the Paley Fest panel and gave a slightly different take than Dana. When asked if she would be accepting Jackson's proposal she replied "I can't tell you that", but she also added "The first scene where [Gale's] back on the street is really spicy. It was really great to see him again and I think all that came across on film, so it's great to have him back." Gale Howard has only recently returned to the set after a serious motorcycle accident.
Creator Marc Cherry also spoke to the Paley audience and said of Susan and Mike "The idea is we'll get back there. I don't know when. If ABC makes a deal with all of us, it looks like we have a few years to play this out, so I would imagine at some point in time Susan and Mike will find their way back in each other's universe." So that's good news for the Susan and Mike shippers out there(I am included in that bracket unfortunately).
Source : EOnline