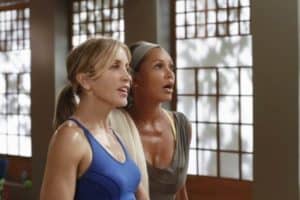 Gaby makes an enemy in the October 16 episode of Desperate Housewives. While dropping off Juanita at school one day, Gaby disobeys the rules of student drop-offs. A parent volunteer banishes her to a parking lot located far away, so Gaby decides to get even.
Lynette thinks that Tom might be dating again and uses the kids to try and get information about a potential new relationship. Bree is shocked to learn that Danielle's new business venture is not as wholesome as she had thought. Susan will be signing up for an art class to help her get over the guilt of the murder and meets the no-nonsense instructor Andre Zeller.
Guest stars for the episode includes Miguel Ferrer as Andre Zeller, Darcy Rose Byrnes as Penny Scavo, Joy Lauren as Danielle Van De Kamp, Jake Soldera as Benjamin Van De Kamp, Andrea Parker as Jane, Beth Littleford as Dana, Melissa Greenspan as Cindy, Jillian Armenante as Rachel, Ruby Lewis as Chloe and Michael Dempsey as Det. Murphy.
Below is a trailer for the October 16 episode of Desperate Housewives.