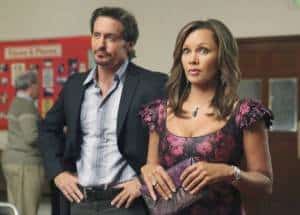 Everyone is still trying to ease their guilt in the October 2 episode of Desperate Housewives. Carlos is depressed over the murder he committed, so Gabrielle decides to plan a "sexy surprise" in order to try to get him interested in sex again.
Susan decides to engage in dangerous actions to ease her overwhelming guilt. Lynette and Tom will continue to work through their current martial woes in the episode and will fall victim to a common situation: as their kids' requests become more and more outlandish, they'll find it more and more difficult to say "no" in order to not look like the "bad guy".
Bree will learn an interesting fact about her boyfriend Chuck's past. Renee, drawn to her handsome new neighbor Ben, will try to win him over by trying to find out about his passions.