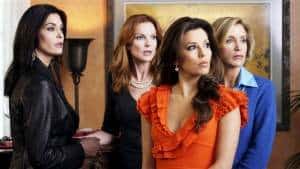 ABC has released details about the upcoming Desperate Housewives series finale. The show will bow out with a special two-hour episode on Sunday, May 13 and will include the return of Dana Delany.
Here's the details:
Desperate Housewives ends its successful eight-season run on the ABC Television Network with a splashy two-hour finale event on SUNDAY, MAY 13 (9:00-11:00 p.m., ET). The show premiered on October3, 2004 and was a smash hit right out of the gate, winning both the 2005 and 2006 Golden Globe Awards for Best Television Series — Musical or Comedy, among other accolades.
All good things eventually come to an end, and in the two-hour finale, "Give Me the Blame" / "Finishing the Hat," Trip (Scott Bakula) begs Bree to tell him what really happened the night of Alejandro's murder as her trial begins to go south and it looks like she's about to be convicted; Gaby tries to come up with a solution that will take the burden off of Bree; Susan tries to keep the sale of her house private until she's had a chance to break the news to the ladies; Katherine Mayfair (Dana Delany) returns to Wisteria Lane and offers Lynette an intriguing job opportunity — which could end her chances of reconciling with Tom; the women all agree to take care of Mrs. McCluskey when they discover that she wants to die with dignity at home; Susan finds herself at wits end when Julie goes into labor at the most inopportune time; and Renee is shocked to discover that, as their wedding nears, Ben has been arrested and thrown in jail.