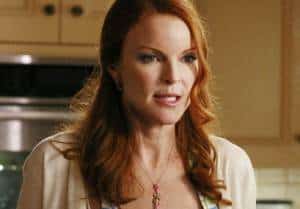 As we gear up for the final few episodes of Desperate Housewives, lots of things are coming to a head – Lynette is working hard to reconcile her marriage with Tom, Susan is struggling with being a single parent in the wake of Mike's sudden death, Renee is trying to get her love life back on track with Ben and Gabrielle is dealing with lifestyle changes as Carlos gives up his job and she gets a new job as a personal shopper.
But Bree seems to be having a harder time than anyone – after last week's episode revealed that the police heard her admit to the murder of Gabrielle's stepfather, she finds herself being taken into custody (sorry, Gabrielle – those are NOT strippers at the door!)
Even though Bree is the one that gets taken away in handcuffs, her friends can't just stand by and let her take the fall on her own – they even pitch in to enlist the help of a high powered defense attorney (guest star Scott Bakula.)
Check out the sneak peeks below, and tune in for tonight's all-new Desperate Housewives airing at 9pm on ABC!