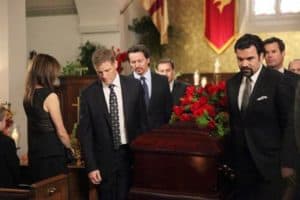 Last week's Desperate Housewives death might have not been too surprising due to the fact it was spoiled before the episode aired. Still, as much as you expected it, it was hard to keep from showing emotion when resident good guy Mike Delfino took a bullet to the chest and proceeded to bleed out in the arms of his wife, Susan.
Mike's previous run-in with the loan sharks when he caught them breaking into Renee's apartment struck a nerve, and he was gunned down in a drive-by shooting at the end of last week's episode. It was a depressing ending to an hour that otherwise seemed to provide closure to the Alejandro mess, now that the girls knew Orson was behind most of the mysterious stalking that had been making their lives miserable.
In "Women and Death", we'll be with the girls as they help a grieving Susan through Mike's funeral, while each one recalls the impact he had on their lives during his time on Wisteria Lane. Meanwhile, the letter that Orson dropped to the police gets Bree called in for questioning about Alejandro, awakening some old fears.
Check out the sneak peeks below and tune in for the all new episode of Desperate Housewives, airing tonight at 9:00 p.m. ET/PT.