So what exactly will happen in the first few moments of Season 7 of Dexter? We'll have to wait until the premiere to know for sure, but these few images released officially by Showtime do reveal a few things. Warning: minor spoilers ahead.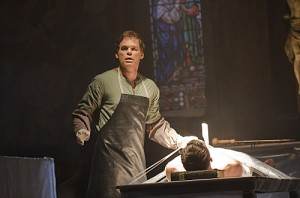 For starters, Deb's (Jennifer Carpenter) response to finding Dexter (Michael C. Hall) with a knife in Travis's chest is a big question mark. Obviously she is going to be shocked, but will her instincts as a Police Officer take over? In one of the images, Deb is holding a gun on Dexter. We know she won't arrest Dexter, but how will she manage knowing what he has done? If you think about it, if Dexter's intent is to try to sell Deb that this was a one time thing he has a pretty strong foundation to work from. His wife was killed by a serial killer, and Travis did kidnap Harrison. The kidnapping is, thus far, a secret between Dexter, Travis's ghost, and Harrison, but revealing it to Deb could elicit tons of sympathy. Regardless of how it plays out it doesn't seem like Deb will simply become complicit with Dexter's doings.
Body disposal is the next thing on the agenda. Dexter can not dispose of Travis's body in his traditional way, doing so would reveal him as the Bay Area Butcher to Deb and we can assume he isn't going to be opting for 'full' disclosure. The answer to this dilemma seems to be spelled out in the promo pics. Travis's body is partially unwrapped from the plastic in one scene, and in another Dexter is holding a match. Looks like Dex will be going for improvised cremation. What is critical to this is that burning the scene will not exactly destroy it. Charred as it may be, Dexter will be leaving behind a crime scene complete with some fashion of remains. Dexter returns September 30th at 9PM EST on Showtime.