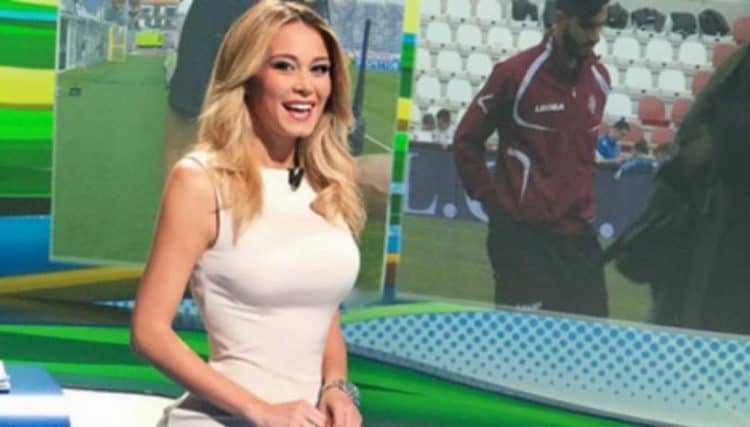 There's really only one reason why Diletta Leotta is in the news as of this moment, other than the regular reasons since she is a journalist and does get a good deal of attention. But this happens to have more to do with her impressive bust line and the desire of some less than well-mannered individuals at a soccer match were asking her to take her top off, or at least give them a peek. She is a very stunning younger woman that has a very alluring look but one thing that any fan, no matter how unruly, needs to remember is that she's to be afforded the same kind of respect that one would give anyone else when it comes to their job. To her credit Diletta smiled and gave the crowd a thumbs down, indication that even if she was disappointed in them she wasn't about to acquiesce to their juvenile demands. One thing about you can say about this woman is that she has miles of class.
Here are a few things about Diletta you might not have known.
10. She has a very impressive following on social media.
Her followers number in the millions so it's kind of obvious that she has a lot of people that either love to tune in and see what she's up to as far as her career goes or perhaps just stare at pictures of her. That unfortunately seems to come with the territory even though it's kind of a backward slide when it comes to respecting women. Thankfully she's a very classy woman that shows very positive and engaging photos with her fans.
9. Diletta seems like the outdoorsy type.
She does seem to enjoy getting out and having a good time, which is probably a good thing as it allows her to stay active and no doubt helps to keep her fit just as much as working out and paying attention to her diet does.
8. She recently shut down fans that were telling her to get naked.
This was already mentioned of course but it has to be said again that she could have flown off the hook at the unruly fans and it would have likely made the story even more popular, but since she wasn't about to give them what they wanted in either case she politely shut them down and showed that she's both wise and judicious with her responses. Evan Jankens from 97.2 The Ticket has more on this matter.
7. She's currently in her late 20s.
Diletta really isn't that old and yet she's done great things with her life at this point, meaning she's likely a very determined and goal-oriented woman that knows what she wants and can go out and get it when the moment presents itself.
6. Diletta has been a model and an actress as well.
This should come as a 'duh' moment since she's got the look and she obviously has the personality that would make it perfect for her to be a big personality on the screen. Why she went towards journalism is hard to say, but maybe acting and modeling were the roads to her current position.
5. She's a very fit individual.
Diletta takes very good of herself as you can see and is known to hit the gym and stay active as much as possible, thereby giving her the alluring form she has as of now. The fact that men have catcalled her isn't a positive note in her life but it isn't entirely surprising. Thankfully she's been able to take it with as much grace as possible.
4. It sounds like she keeps her love life and business life separate.
It also sounds as though she broke up with her fiance not that long ago and may very well know how and when to keep her professional life apart from her personal life, which is a great skill for anyone that's on TV or in movies to develop.
3. She does love to travel.
This is pretty obvious from her Instagram posts since she does enjoy going from one place to another, no doubt to gather the experiences she wants while she's young and able to fully enjoy them.
2. Her current net worth is around $200,000.
This seems like it might be just about right for a TV journalist, though some have been known to be worth millions, depending of course on the length of their career and how far their reach has been seen to go.
1. Apart from being asked to take her top off she hasn't been involved in any real controversy throughout her career.
If there's been anything but this moment in her professional life it has yet to appear since honestly it sounds as though she's done her job and done it well so far without any real complaints that might be noticed.
Class above all is what separates the professionals from the flashes in the pan.