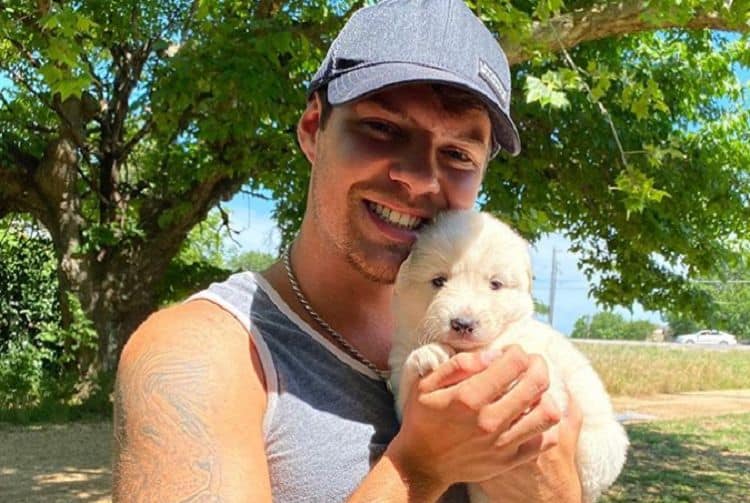 2020 has been full of lots of bizarre things, and the Netflix series Tiger King was one of them. Released in March of 2020, Tiger King, told the twisted story of zookeeper Joe Exotic who was charged and convicted of a murder for hire plot. While Joe was  the star of the show, his husband, Dillon Passage, has also been getting a lot of attention. Not only does their age difference make their relationship slightly unconventional, but Dillon has chosen to stick with Joe during his prison sentence. Although Dillon wasn't around for much of the drama depicted in the series, his association with Joe Exotic has put him right in the middle of everything. Continue reading for 10 things you didn't know about Dillon Passage.
1. He Met Joe On Grindr
Joe and Dillon's love story wasn't exactly ripped from the pages of a fairy tale. Dillon told Out in Jersey, "I got a message on Grindr from Joe Exotic, I had no idea who he was. All I saw was a picture of a dude with a giant tiger on top of him. He sent a long message of who he was and what he did. He invited me and my cousin to the restaurant he owned." Dillon admits that Joe's mullet initially threw him off, but he found himself attracted to Joe's personality and energy.
2. He Sells Customized Videos On Cameo
Tiger King has been seen by millions of people all over the world, and Dillon is doing what he can to capitalize on the show's popularity. He has an account on Cameo where he sells personalized video shoutouts for $75. People also have the option to pay $2.99 to chat with him.
3. He's Struggled With Addiction
Dillon was just 22-years-old when he met Joe Exotic, and at that time Dillon was battling with a very serious addiction to prescription drugs – particularly Xanax. Dillon credits Joe with helping him turn his life around and he believe that Joe gave him a recent to want to live and be sober.
4. He's Never Met Carole Baskin
Carole Baskin may be the 'victim' in her story with Joe Exotic, but she could very well be the villain in her own story. Since the release of Tiger King, many people have theorized that Baskin killed her husband, Don Lewis, who disappeared in 1997. But while there are lots of people who have opinions about Baskin, Dillon isn't one of them. Dillon told Buzzfeed, "I've never met Carole, so I can't speak about how her personality is behind what was shown."
5. He's More Than 30 Years Younger Than Joe Exotic
To say that Dillon and Joe have an age gap would be an understatement. Their difference in age exceeds more than three decades. Dillon is only 24-years-old while Joe is 57. Many people have questioned the dynamics of their relationship and think it's a red glad that Joe sought out someone so much younger.
6. He Was A Cheerleader In College
Dillon attended Stephen F. Austin State University in Texas where he was a member of the cheer squad. While his competitive cheering days may be over, he still loves to do some of his old stunts. While there, he studied psychology and criminal justice but it's unclear if he graduated.
7. He And Joe Got Married Within Two Weeks Of Meeting
Dillon and Joe's connection was definitely a whirlwind romance. After initially connecting on Grindr and meeting at Joe's restaurant, the two became inseparable. They decided to tie the knot within just two weeks of meeting. Dillon told Buzzfeed that he's "not ashamed of it whatsoever."
8. He Didn't Have An Easy Upbringing
Dillon grew up in a military family, but his parents went their separate ways when he was around 8-years-old. The separation forced Dillon's mom to file for bankruptcy, but Dillon's mother eventually remarried to a man who helped the family get back on their feet. When Dillon was in high school, he went to live with his father but was kicked out when he decided to open up about his sexuality.
9. He Loves Working With Animals
Joe Exotic's reputation of working with animals wasn't the best, but Dillon loves working with animals and appears to be in it for the right reasons. While talking to Out in Jersey Dillon said, " I want to stay in the animal world, more education than owning, like Doc Antle. His relationship with his animals is more "coexistence." He's a good guy. Don't get me wrong, I respect Joe and everything he's done for the animal world but his relationships with the animals were more about the fame."
10. He Enjoys Hanging Out At The Beach
Underneath the Netflix series and his marriage to a felon, Dillon is just a 'normal' 24-years-old. He lives in Florida and takes advantage of the beautiful weather as often as possible. He genuinely enjoys the simple things in life like spending time at the beach with his friends.