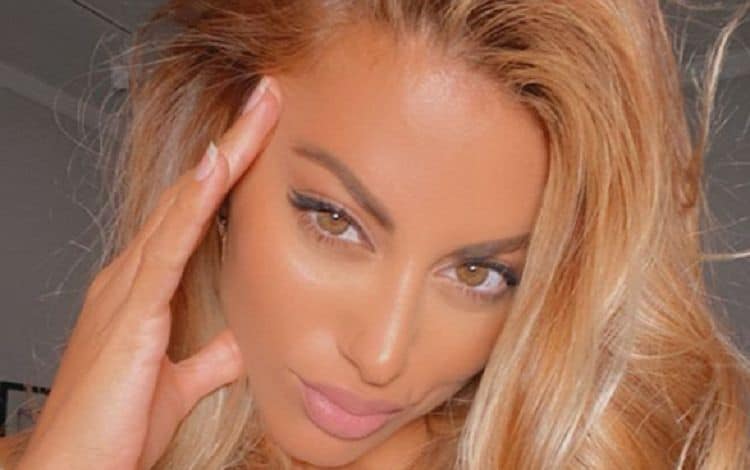 Dina Khoury may not have the biggest social media platform at the moment, but she's working hard to build her brand. With over 32,000 followers on Instagram, she's definitely getting there. Well known for her beautiful bikini shots, she knows exactly what to post to get people interested in her content. Dina also likes to share health and fitness tips with her followers. She knows what it takes to look good and she isn't afraid to share her knowledge with the world. Although building a powerful presence on social media isn't easy, Dina definitely has all of the key ingredients to finding success in the social media world. Keep reading for 10 things you didn't know about Dina Khoury.
1. She's An Aspiring Actress
Social media isn't the only place where Dina is trying to make her mark. She is also trying to break into the acting industry. Building a big following on social media can be a great way to help boost a career in acting. At the moment, it doesn't appear that she's been cast in any roles.
2. She Makes Videos On Cameo
2020 has been a huge year for Cameo. The platform allows people to purchase personalized video shoutouts from their favorite celebrities and/or influencers. These videos make for great gifts for special occasions. Dina has an account on the platform and is currently selling videos for $50, however, it doesn't look like she's sold any videos yet.
3. Her Boyfriend Is Also An Influencer
Dating someone who makes a living from social media can be tough. They spend a lot of time on their phones and have to be strategic about what they post. Luckily for Dina, her boyfriend, Evan J. Betts, is also an influencer. Even is a well-known trainer and model who has almost 50,000 followers on Instagram.
4. She's A Member Of Honey House
Since the rise of TikTok, creative collaboratives have become increasingly popular. The Hype House, which is arguably the most popular of them all, consists of some of the biggest creators on the platform. However, since these 'houses' are typically geared towards teenage TikTokers, the older crowd has decided to create one of their own. Dina and her boyfriend are both members of the newly founded Honey House.
5. She's Signed To A Modeling Agency
How many times have you come across an Instagram page with the word 'model' in the bio? Probably way more than you can count. The truth is that a lot of these models have never taken pictures anywhere other than social media. That's not the deal with Dina though. She is a model in real life and is currently signed to Elite Model Management which has offices located all over the world.
6. She's A Frequent Traveler
Dina may spend a lot of time on her phone, but that doesn't mean she doesn't like to unplug and enjoy life as much as she can. She loves to travel and has gotten the opportunities to visit several countries. Some of the places she's been include Barbados and Bermuda. When Dina is on trips, she seems to love to spend lots of time relaxing on the beach.
7. She Loves A Good Adventure
Dina may have a pretty face, but don't let that fool you into thinking she isn't down to get her blood pumping with a good adventure. With that being, traveling  isn't the only thing Dina likes to do. She's also adventurous in lots of other ways. She enjoys doing things like surfing and hiking.
8. She Likes Her Privacy
Even though Dina has made a name for herself by posting on the internet, she is a very private person. The content she shares on social media is very much inline with her professional brand and she doesn't share a lot of personal information. This separation or real life and online personas is becoming more and more common with influencers.
9. She's Also Active On Facebook
Instagram is where Dina has gotten the most attention, but she's also active on Facebook as well. Her Facebook page has just over 1,500 likes and she often reposts her content from Instagram to her Facebook page. Casting a wide net is a great way to build a larger following.
10. She's A Dog Mom
Dina and Evan haven't started a family of their own yet, but Dina has become a mom in her own way. She is the proud mother of a fur baby named Rocky who has made a few rare appearances on her Instagram page. Surprisingly, Dina hasn't created a separate account for Rocky.