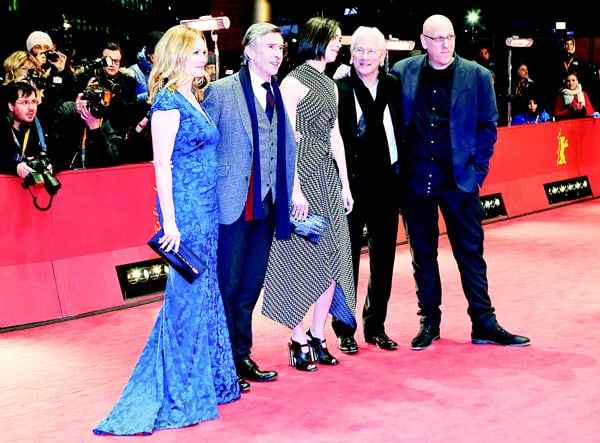 You might want to add Richard Gere and Steve Coogan to Donald Trump's list of people to grill on Twitter.   "The Dinner" is a film directed by Oren Moverman that tackles American divisions and "Original Sin."  Friday at the Berlin Film Festival, while promoting the film, Richard Gere spoke out on Trump-era tensions.   The movie by tells the story of two brothers and their wives whose children have committed a horrific racially charged crime.  According to ATO:
At a press conference ahead of the film's red-carpet premiere, the cast and crew were peppered with questions about Trump, with Coogan commenting acidly that although his character suffered from mental illness, "compared with the president of the United States I think it looks like a mild headache". Gere railed against Trump's travel ban targeting refugees and seven Muslim-majority nations, currently thwarted by US courts, calling the equating of these people with "terrorists" his "biggest crime" since taking office last month. "Unfortunately we have leaders that stimulate fear and that fear causes us to do really terrible things," he said. "I think that is part of what we are talking about in the film."
The Berlin Film Festival is yet another forum for actors to speak out about Donald Trump.  Last night at the Grammy's musicians too rallied in their speeches to promote equality and unity in our nation.   It seems as though if there's going to be any kind of World War 3, one between Trump's Administration and Hollywood is certainly brewing.
Photo via AP