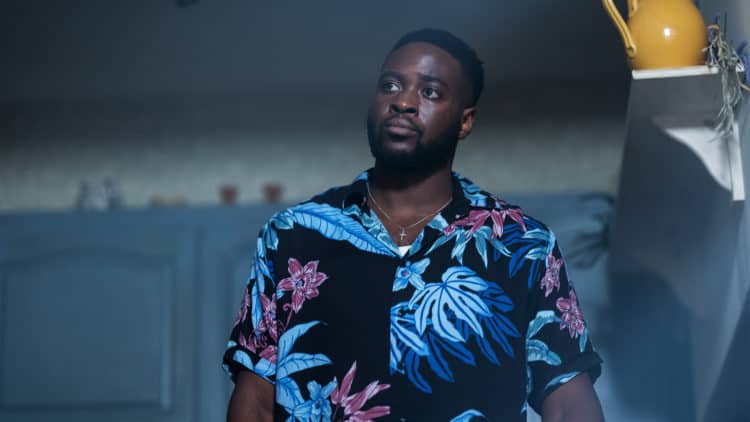 Dipo Ola is the true definition of a rookie in the acting world and he's getting the chance to live his dreams. He made his first on screen appearance in 2020 and he's already showing lots of promise as an actor. Dipo has the ability to captivate viewers and he's already developing a strong fan base of people who are excited to go on this adventure with him. He has a main role in the new Showtime series We Hunt Together and many believe that it will be his break out role. Even though we can't predict the future, it seems safe to say that Dipo Ola is a name we're going to be hearing about for years to come. Continue reading for 10 things you know about Dipo Ola.
1. He Hates Olives
Trying new food is always a great experience, but even the least picky person in the will eventually run into something they don't like. With that being said, everybody has one food that they absolutely hate. For Dipo, that food is olives. He doesn't have a solid explanation, he simply doesn't like them. There are probably lots of people out there who feel the exact same way.
2. One Of His Goals Is To Star In His Own Project
Dipo is just getting started in his career, but he already knows what he wants in the future and he has some big dreams. One of his dreams includes getting the chance to get behind the camera as well. When asked about his biggest goals, Dipo told Square Mile, "To star in something I've written/created and for that production to be a success, which it will be!"
3. He Studied At The Oxford School Of Drama
Even though it's been less than a year since Dipo made his first on screen appearance, he isn't new to acting in general. He has been working on his craft for years and he was formally trained at the Oxford School of Drama. The school boasts several other notable alumni including Dipo's We Hunt Together co-star, Babou Ceesay.
4. He Doesn't Have A Big Following On Social Media
Dipo is active on Instagram and Twitter, but he doesn't have a large following. He has just 739 followers on Twitter and 1,419 on Instagram. However, as his career continues to grow there's no doubt that his follower count on both platforms will grow exponentially.
5. He's Signed To A Talent Agency
Despite being so early in his career, Dipo has already made some serious strides – one of which was being signed to an agency. He is currently signed to a UK based talent agency called ARG. According to the agency's website, "ARG provides highly individual personal management for its elite list of creative talent and has an unrivalled reputation for building and sustaining successful careers."
6. His Parents Work For The NHS
Dipo lives in the United Kingdom and both of his parents work for the United Kingdom National Health Service (NHS). As you can imagine, they have both been very busy in the midst of the pandemic. During lockdown, Dipo was looking forward to quarantine ending so he could spend time with them.
7. He's A Fan Of Euphoria
When Euphoria debuted in the summer of 2019, it quickly became one of the most talked about shows on TV. Not only did Zendaya's performance steal the show, but the story itself was unique. Dipo recently decided to give the show a chance, and after watching just one episode he tweeted that it's 'the world's greatest show'.
8. One Of His Proudest Moments Is Working With Dave Morrissey
Dipo is already making priceless memories through his work. During his interview with Square Mile, he said that the proudest moment of his career so far has been getting the chance to appear opposite award winning actor Dave Morrissey in the comedic TV series Inside No. 9.
9. He Has Used His Platform To Speak Out Against Racism
Dipo certainly isn't the kind of person who's afraid to stand up for the things he believes in. On his social media accounts, he has been very vocal about the realities of racism. He has shared posts regarding racism in the entertainment industry and he has also shown his support for the Black Lives Matter movement.
10. He's Been Using Quarantine To Reconnect With People
COVID-19 has shut down production across the entire entertainment industry. This has sent many actors into a panic, but Dipo is trying not to be hard on himself during this time. Instead, he has been focusing on connecting with new people and reconnecting with old ones.