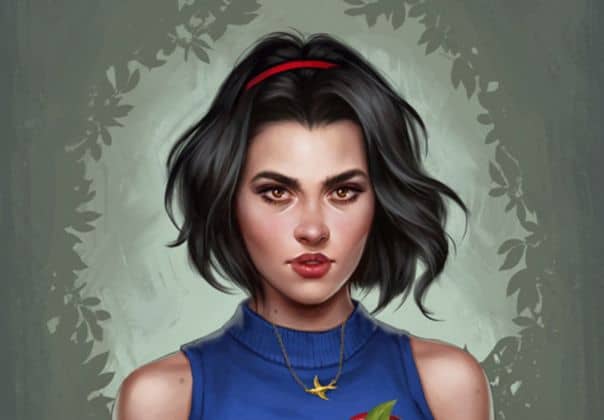 We've all seen the Disney princesses in their classic, traditional looks and if you've looked around the internet at all you might have seen a great many renditions of how they might look as Star Wars characters, Game of Thrones characters, and even as superheroes. But some of the most interesting looks for these classical ladies don't have anything to do with fantasy. You've seen them be represented on TV and in some cases in live action, but what about if they were more true to life in modern times? Then they might look something like these alluring pictures below.
Ariel
You've got to love that impish look she has and the smattering of freckles that just makes her look a little younger and a little more like the girl next door. The red hair is spot on and if you'll notice she's rocking some distinctive pieces to her wardrobe and person. The purple bra is familiar, and the crab tattoo on her arm seems to denote a fond memory. Even the gold clamshell necklace is a nice touch, as is the green skirt she's wearing that is a throwback to her mermaid days.
Jasmine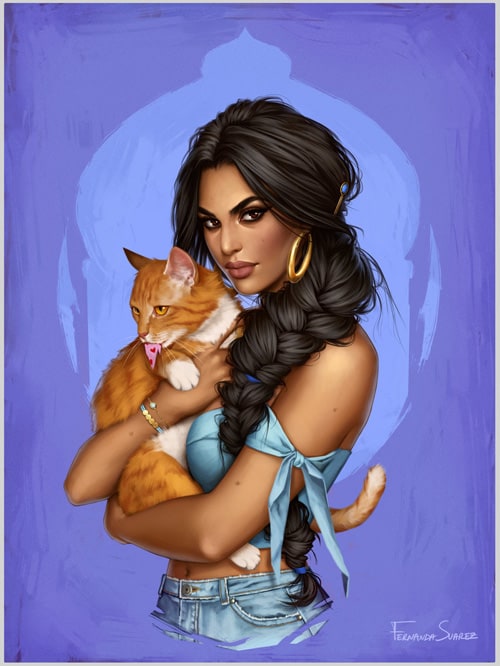 She seriously looks like someone you wouldn't want to mess with right off the bat which is great since that seems to be her trademark attitude. Jasmine is also sporting roughly the same look from her Agrabah days but thankfully Raja seems to have been toned down a bit. It still looks like he might have found an unsuitable suitor to take a healthy chomp out of though.
Belle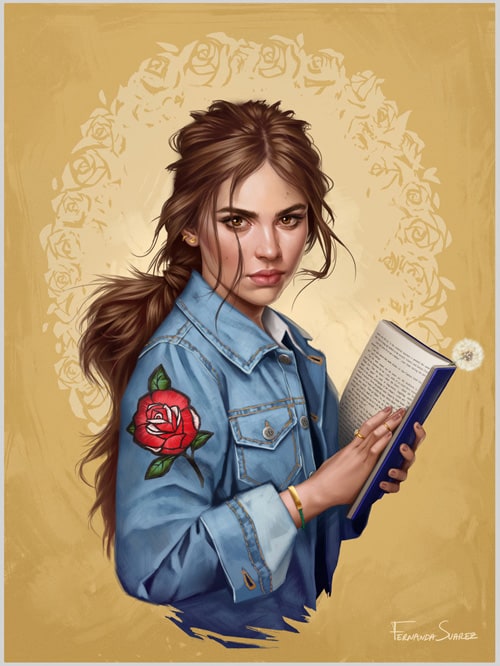 Ah  the book lover. Belle was never the most intimidating of the princesses but she was one of the most openly defiant and opinionated. This could be why so many people absolutely adored her, and why she's been one of the most popular since her inclusion into the group of princesses. The untidy, unruly spill of brown hair is very becoming and one has to wonder if the ring she wears was a gift from her love, the Beast. The rose upon her shoulder is also a very fetching addition.
Snow White
Beautiful work via Fernanda Suarez
Hair that's raven-black, lips red as the rose and skin the color of, well, not really, but she is pretty pale. Still, Snow White has such a classic look that even being modernized only makes that look come out a little more. Her slightly haunting gaze tells a story of a young girl that was cast out of her home and made to live a life of hardship before she could return and claim a life that was rightfully hers. As is usual she holds an apple that could be harmless, but as most know is not.
Too many times the Disney princesses have been shown as charming, harmless, and otherwise completely helpless young women awaiting their prince. These pictures are definitely feminine in nature, but the look in their eyes says that they are anything but helpless. Fernanda Suarez has done an absolutely wonderful job.
Save