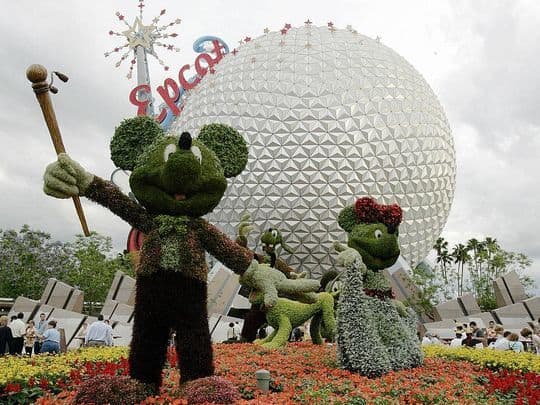 Disney theme parks have always set out to offer guests new experiences and innovative approaches to classic resort problems. One of the biggest hurdles with having such a massive spread of resorts and parks throughout the whole of Disney World is transporting guests to where they want to go promptly. While there are hubs for bus transportation (and even ferry boats with specific resorts), these methods are often overcrowded and uncomfortable throughout the peak season. This spurned the latest idea from the collective brainpower overseeing changes and upgrades to Walt Disney World: aerial lifts.
What Are These Lifts?
For anyone that has ever visited a ski resort before, the lifts that you take to the top of the slopes are essentially the same kind of hardware that will be used to transport passengers from place to place. In lieu of open flooring as is customary with ski lifts, Disney has worked with the company installing this new system to design colorful and inspiring gondolas for passengers to embark on. These will feature many of the staple characters or iconic scenes from cartoons and popular franchise films. These lifts will run continuously between the hours of operation for the parks, and be serviced as needed after hours (which is how all Disney transportation, rides and structures are maintained).
Where Will They Go?
Currently, the plans have only been unveiled enough to know that the first connection will be between Epcot and Hollywood Studios. These two parks are very close together as it is, making them a natural choice for a starting point. In addition, there will be a central hub currently being built into Caribbean Beach Resort as part of their latest round of renovations. This will allow guests staying there, or guests who travel to that resort by bus to head to either park. Also, it is a midway stopping point for guests to get off and take a bus to other destinations within the resort via the large bus hub on site.
Will It Cost More?
This past year, Disney offered a mode of travel called Express Transportation. This took you from inside one park to inside of another without further security checkpoints. While it was faster getting from park to park, it wasn't the monumental hit that it was expected to be. This cost guests a certain small charge per day or one reasonable charge for their entire stay to utilize this option. This feature was accessible through the use of the Magic Band. It has not been said if this gondola system will be an added charge for resort guests, though it can be believed that the expense will be minuscule compared to the overall cost of the vacation stay.
Ultimately, these ski lifts should greatly reduce the workload for the buses traveling between these two parks. If this large undertaking is deemed successful, it seems reasonable that connections will soon be made between all of the parks, offering a memorable and exciting way to park hop. These new gondolas are set to be in motion before the unveiling of the completed Star Wars: Galaxy's Edge land in Hollywood Studios, but will not be expected before Toy Story land makes its debut in the summer/fall of 2018.