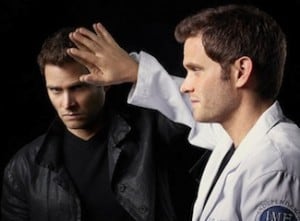 Dr. Jason Cole (Steven Pasquale) seems to not have a weakness. The handsome surgeon has risen to the top of his field and has full reign of the hospital he currently practices at, when he's not lounging in his lavish home or speeding away in his fancy car. He has the life of comfort that many dream of and aspire toward but only few ever get a hint of, which should make him as content as one person could be. However, on Do No Harm (which you watch the full pilot of here or here), he has one major problem that impacts every aspect of his life.
Dr. Jason Cole isn't always Dr. Jason Cole. Every day from 8:25 p.m. to 8:25 a.m., he becomes another person — dangerous Ian Price, an alter ego that he's controlled for years through medication. However, his body has developed a tolerance to the serum and Ian has been coming out more frequently and staying for longer periods of time. During the time he's out, Ian becomes dedicated to carrying out revenge on Jason for keeping him sedated for so long, including exacting vengeance on the latter's friends, family, and co-workers.
Jason might have a vast medical knowledge that has propelled him to the career he enjoys today, but right now, he has to put that knowledge to use in order to preserve the life he has and protect everyone he holds dear. Including himself.
In addition to Pasquale, Do No Harm stars Alana De La Garza as Dr. Lena Solis, John Carroll Lynch as Will Hayes, Lin-Manuel Miranda as Dr. Eli Malak, Michael Esper as Dr. Kenneth Jordan, Phylicia Rashad as Dr. Vanessa Young, Samm Levine as Josh Stern, and Ruta Gedmintas as Olivia Flynn.
The series premiere of Do No Harm airs Thursday, January 31st at 10:00 on NBC.
Will you be watching Do No Harm this season? Do you think that the show will be able to do a fresh take on Dr. Jekyll and Mr. Hyde? How does the premiere compare to the previews and promos that you've seen?