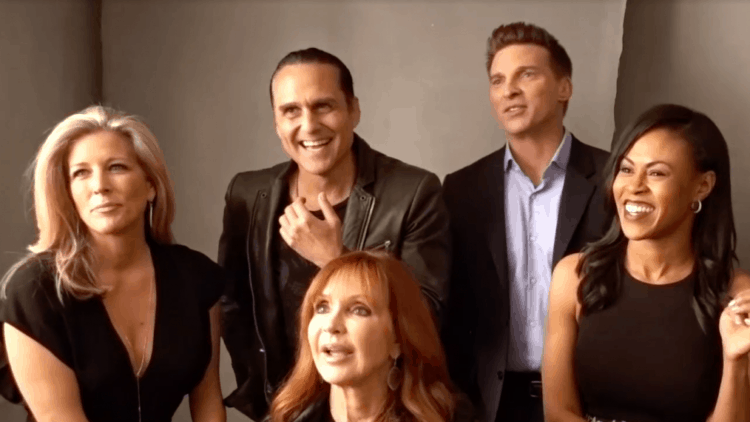 General Hospital fans know actresses sometimes come and go, and that's all part of the game. Port Charles is a place where people come to cause problems, and many of them cannot handle the heat once they do just that. Their characters get involved with the wrong people, they upset the wrong family, and they end up with very little choice other than to get out of town and move on before someone in one of those families decides to take matters into their own hands at their own discretion. We are down for it, but not everyone else feels this. We are the kind of people who love the characters we love, but we easily forget about those we haven't seen in a while. It's not because these actresses were terrible or unmemorable, but we forgot about them. We loved them and thought they were spectacular, yet we forget they were ever part of the show.
Mary Beth Evans
You know her as the amazing Kayla from Days of Our Lives, but did you remember her brief time here in Port Charles when she took a leave from Salem? Many people are so enamored by her character over there that they forget she spent some time here, and we get it. She's so good at all she does, but that is the role of her lifetime. This role was not so much, but she still rocked it as best she could. She came into town to get a full departure from the good girl doctor she is in Salem. She was a horrible mean girl who took after the awful Helena Cassadine in a way that made us all cringe. She was hurtful, mean, dangerous, and she did things that made us all cringe. We loved it when she was here because it was so fun to see her in a role that was so different than anything else we'd ever seen her do, but we were not mad when she went back to being our favorite small town doctor, either.
Sarah Laine
Did you even remember that Liz had as sister? Well, she does and she did, but not so much anymore. This actress came to town with her sister, Elizabeth Webber, way back in the late 90s as a team. A duo. Sisters who were here to do the things and live the life and be the people. But that did not happen for her. She was the very good girl that has been gone for a very long time. While Liz showed up and did her thing, her sister was a very good girl type of doctor who was here to make a career for herself doing all the doctor-y things and making all he doctor-y choices. She didn't last long though, but we aren't even sure what happened to her. We don't recall her dying, but we also don't recall anyone else even recalling the Liz ever had a sister, either. It's all strange stuff to us.
Sarah Joy Brown
We don't know why we forget her because she does have such a memorable face, and she was the original Carly. She was so good at it, too, but Laura Wright is also so good at being Carly that we forget anyone else was ever part of this role. It's a good thing, but we do remember her being her and making her rounds in this role while she found a way to make things work with Sonny, while she was doing other things, and while she was making a mess of her own life before she finally got it together. She was there in the role for a very long time, she was a meaner, less likable version of Carly. We think that she was the evil villainous version we all liked very much, but Wright just brings a calmer, more peaceful, more mature version of her to the table, and we all just like how much that character has grown to the point that we cannot get enough of it. Perhaps that is our fault, but we are very much down with it when we have the chance to be. It works.