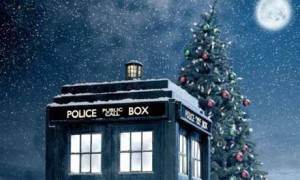 I don't believe this has ever been done, but hopefully the trend will continue. While the Brits will still be getting their dose of Doctor Who before everyone in the States, the gap between will be closer than ever: in fact, the U.S. will be getting their Doctor Who Christmas special the same day as those in the U.K.: on December 25, of course.
Now, last year, this wasn't the case. "The End of Time, Part 1" aired the day after Christmas on BBC America, which was still pretty close behind compared to previous years. Now, it seems that BBC America has sealed the gap between the two.
The special, titled "A Christmas Carol" and guest starring Harry Potter's Michael Gambon, will make its American premiere at 9/8c on Christmas Day. I wouldn't necessarily expect viewership to be high — it is Christmas day, after all, and Who is much more a British Christmastime tradition than American — but I know that I'll be tuning in. Forget family and presents and large meals! I'll be parked in front of the telly watching Matt Smith save the day as the Eleventh Doctor.
It's still unknown whether or not this trend will continue for the sixth season of the show. I wouldn't count on it, though. Despite the closeness of the airdates of both "End of Time" parts (the U.S. was just a day behind the U.K. for David Tennant's last hurrah), the fifth series still premiered a few weeks behind schedule, leaving the Doctor's stateside fans in the dark for weeks. I wouldn't be surprised if the BBC fell back into that routine with the premiere of series six (despite the fact that the first episode, a two-parter, is set and was filmed in the U.S.).
"A Christmas Carol" will air on December 25 at 9/8c.