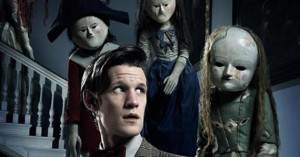 After last week's "Let's Kill Hitler," which was the best episode of series 6 thus far, we were treated to the worst of series 6 so far in Saturday's "Night Terrors," an incoherent mess of an episode that was utterly unenjoyable.
It was a bad idea to follow up a mythologically heavy episode such as "Let's Kill Hitler," with a standalone such as "Night Terrors." The episode effectively served as a speed bump for the forward momentum started in "A Good Man Goes to War" and continued through "Let's Kill Hitler." "Night Terrors" was reported to have originally been slated for the first half of the season, and it's obvious that no major changes were made to help the episode fit into its new slot (the tacked-on, unintelligible nursery rhyme doesn't count).
Regardless of its placement in the series, though, "Night Terrors" would have been an awful episode. It started off with a promising premise: the monsters in a little boy's closet were real. It seemed like the perfect episode to appeal to the many young members of the Doctor Who fan base. Consider that opportunity squandered.
The episode's lopsided pacing aside, what was really wrong with the episode is that it made it impossible to even remotely understand what the episode was even about. The explanation behind George and the peg dolls was compressed into one quickly-shouted monologue by the Doctor, which required a few viewings to actually even understand. There's nothing wrong with Smith's rapid-fire delivery — except when it's used to explain the entire events of an episode in fifteen seconds flat.
The episode's biggest flaw, though, was how it treated the character George. "Night Terrors" was a great opportunity for an episode about little boys overcoming fear and fighting off the monsters in their closets. Instead, George was sidelined in favor of his father, Alex, and was turned into the real 'monster' of the episode by the ending. If that doesn't alienate all the little boys who dream of fighting alongside the Doctor, nothing will.
There were a few bright points to the episode: namely, when the Doctor wasn't racing through important plot points, he had some pretty funny lines of dialogue (especially regarding remembering names at parties). Rory was also given more time to shine, especially with his "we're dead again" line that was hilarious considering just how many times he'd died.
"Night Terrors" was poorly timed, poorly paced, and all around a missed opportunity. Next week's "The Girl Who Waited" looks significantly better, but it's going to take a lot to pick up the momentum that "Night Terrors" halted. C+