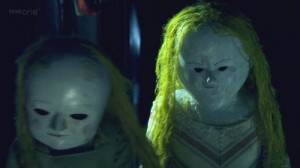 The Doctor Who series 6 trailer premiered all the way back in December, but even in the first half of the series, we still haven't even gotten through all the cool content it teased us with. The Nazis were present in the first shots of the trailer, but they won't be present until (presumably) the episode "Let's Kill Hitler," which airs in the fall. But there are monsters that they've shown us that we haven't seen hide nor creepy doll hair of yet either. Remember those scary little dolls lumbering around? Yeah, the ones who looked like a cross between The Strangers and Gremlins. Well, they'll be popping up in the fall, in an episode newly titled "Night Terrors."
The episode, previously titled "What Are Little Boys Made Of?," features a little boy named George who is scared of something in his cupboard (hint: it's these dolls). It's penned by Mark Gatiss.
That might have some warning bells going off right there. Gatiss is responsible for what is unquestionably the worst episode in Matt Smith's tenure as the Doctor, "Victory of the Daleks." He also penned the episodes "The Unquiet Dead" and "The Idiot's Lantern" for the Ninth and Tenth Doctors, respectively. I'm indifferent about both episodes, but there are stronger opinions on them from the more critical fans; DoctorWhoTV names "The Idiot's Lantern" as the ninth worst episode of the series since the show restarted in 2005 ("Victory of the Daleks" took the #2 spot).
So Gatiss might have to work to get fan approval on this one, but that's not to say he's incapable. Gatiss proved his writing chops with the third episode of Sherlock's first series. He and Steven Moffat are apparently good friends, which is to say that he'll probably be writing at least a few more episodes of the series in the future. I'd certainly love for "Night Terrors" to turn the perceptions of both myself and Doctor Who fans around. Here's hoping.
Doctor Who will return in September with the episode "Let's Kill Hitler." Gatiss's "Night Terrors" will be second in the show's fall run.