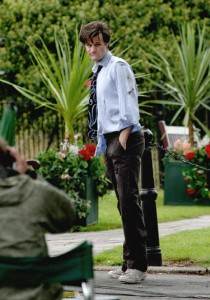 At tonight's Doctor Who press launch in Cardiff – which included the World Premiere of the first episode of the new season "The Eleventh Hour", it was confirmed that the series will be returning with a Christmas special and 2011 season, both fronted by new Doctor Matt Smith, however no confirmation was (nor surprisingly) given on the status of Amy Pond played by Karen Gillan. Executive Producer Piers Wenger also confirmed that the Christmas episode will be penned by showrunner Steven Moffat.
To promote the press launch the BBC News Channel reported live from the event, which included a crash landed TARDIS outside. However, they also broadcast a short clip from the episode which follows immediately after the crash of the TARDIS seen in the final moments of the previous Christmas and New Year special. The clip can be seen below.
This may just be my opinion, but Matt Smith is certainly looking better and better as each day rolls closer to the broadcast premiere of Doctor Who on April 3rd 2010 (Easter Saturday) in the UK.
US viewers will be just 2 weeks behind UK airings of Doctor Who, as BBC America will be airing the show starting April 17th at 9PM ET/PT, though those lucky enough to be attending WonderCon in San Francisco on April 3rd will get to see the first episode just a few hours after UK airing.