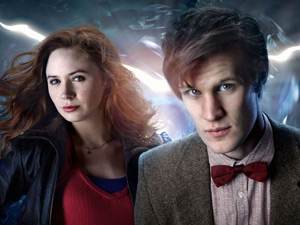 The Cloister Bell is ringing, Who fans, because there is impending danger to Doctor Who. The Christmas Special is in jeopardy. You've already read what the danger is in the title of this article, so I won't bother to build it up any longer: the script to the Doctor Who Christmas Special has reportedly gone missing, according to Daily Star.
The filming for the special, slated to begin next month, has been "thrown into jeopardy" by the misplacement, the Star says, claiming that head writer Steven Moffat is "facing a race against time to create a new draft before filming commences." If this report is true, it could be bad news for the fans who will have waited six months for the special. Either it won't happen (not very likely), or, even worse, it would be a much lesser script than the original. Hopefully this will not happen either — only one script from the fifth series was subpar ("Victory of the Daleks," if you're wondering), and it wasn't penned by Moffat, who has a track record of very high-quality scripts. Due to the fact that he's already written it once, I can't imagine it'd be too tough to write it twice.
Having said that, how exactly does one lose a script? Even if only one copy was printed, shouldn't Moffat have at least backed it up on his computer? It simply seems like a strange thing to happen in the information age. Very strange indeed.
However, I think we can rest assured that, despite this setback, we'll be seeing a Doctor Who Christmas special no matter what (and probably a darn good one, t00). Let's just hope that Moffat learns from this mistake, and, come series six, we don't have this problem again.
Doctor Who's sixth series will air in April 2011, and, if the release follows precedent, series five should hit DVD shelves in both the U.S. and the U.K. in November.