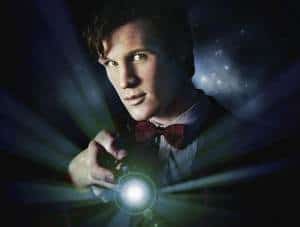 The final trailer for Season 5 (or 31 if you include the original 1963 – 1989 run) of Doctor Who has been released to the general public. The trailer played at the end of the Premiere screening of the 1st of the new episodes "The Eleventh Hour" in Cardiff on the 18th of March.
The trailer includes clips of old enemies (including one unexpected surprise) and new, some iconic locations in the UK including Stonehenge, and also seems to show that the CGI effects have improved greatly from previous seasons. This is probably down to the reduction in casting costs, as Matt Smith and Karen Gillan are costing the BBC significantly less than the combination of Catherine Tate and David Tennant for the last full series, not to mention guest casting of all of The ninth and tenth Doctor's previous companions.
With just two weeks to go till the UK premiere, the BBC are ramping up promotion of the Eleventh Doctor's adventures, including a 5 day tour of smaller regional towns in the UK, premiering the first episode to local school children. The tour takes in Belfast, Sunderland and Salford, and will also visit Inverness and Northampton, Karen and Matt's home town's respectively.
Steven Moffat also confirmed today on BBC Breakfast that the show will air on April 3rd. This is the first official confirmation of the show, though we've known the date for a month now, since the BBC accidentally aired the second "3D" trailer with the date attached before an episode of Top Gear.
The new trailer, and the accidentally aired trailer footage (from my phone, so please excuse the sound and video quality) can be seen below.