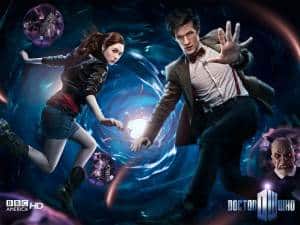 If you're a Doctor Who fan at all, you'll know that at the end of the New Year special, David Tennant's Doctor regenerated, which basically means that he changed appearance into a new Doctor (played by Matt Smith). But in the process of his regeneration (which was unusually violent), he destroyed the console room of his beloved TARDIS.
TARDIS (which stands for Time And Relative Dimension In Space) is the time machine in which the Doctor travels. It resembles a blue police box on the outside. However, it's bigger on the inside than on the outside, and it's a really large space ship/time travel machine that can go practically anywhere.
The TARDIS is one of the most prominent symbols in British popular culture, so obviously any changes made to the vessel are looked upon with great interest by television fans all over the world. The Telegraph has managed to reveal how the TARDIS will be rebuilt after the Doctor's regeneration.
"It must be three times the size of Tennant's, on multiple levels with staircases in between. Less grubby than its predecessor, with a transparent plastic floor on the main level, its walls are resplendent with polished copper and its central column features a blown glass decoration that could be straight from Tales of the Unexpected.

There are old car seats and downstairs — downstairs! — a swing. With a nod to Paul McGann's Tardis, the central column features an old TV screen on an extendable trellis. It also has a 1980s-style computer keyboard, and a His-Master's-Voice style trumpet speaker."
What do you think about this new TARDIS? Are you digging the more retro style that new showrunner Stephen Moffat is bringing?