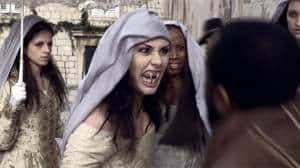 It's going to be very hard for Doctor Who to get any better after "The Time of Angels" and "Flesh and Stone," so I'll be going into this Saturday's episode, "Vampires in Venice," with lowered expectations, simply because the fact that it deals with a medieval setting reminds me of the series three episode "The Shakespeare Code," which was, in my opinion, one of the worst episodes of the show so far. Now, instead of witches like in that episode, we'll be dealing with the titular vampires, which is just campy enough to make me a little bit uncomfortable. After all, that is the trouble with great episodes; mediocre follow-ups are even worse when they're inevitably compared.
Digital Spy has released a list of ten hints regarding "Vampires in Venice," and they're listed below. What do you think? Will the episode live up to its predecessor, or will it fall short?
1. Rory is halfway through his stag do when The Doctor arrives to collect him. And it's quite an entrance.
2. On entering the TARDIS, Rory doesn't really say what The Doctor wants him to.
3. The First Doctor makes an appearance.
4. The 'vampires' like Amy. Who can blame them? She's delicious!
5. "Where are you from? Did you **** ******* the *****?"
6. Ever wanted to see The Doctor get electrocuted? Luck's in.
7. "Some tiny. Some were as big as the sky."
8. What's 10,000 in number and waiting in the water?
9. Amy enjoys a massive snog with either Rory or The Doctor. Right in front of the other.
10. "All I can **** is… *******."