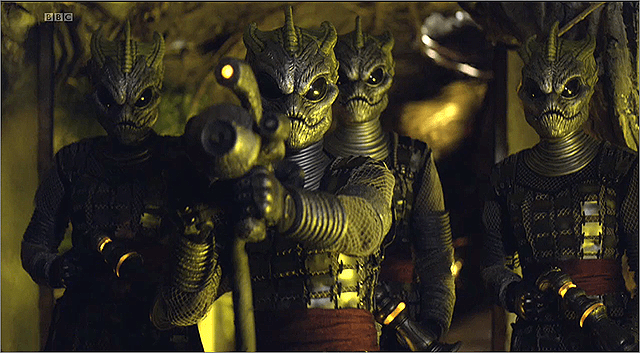 Doctor Who is bringing back some old nemeses. We haven't seen these villains since 1984, but we'll be seeing them in the course of two weeks, in episode eight of the new series, "The Hungry Earth."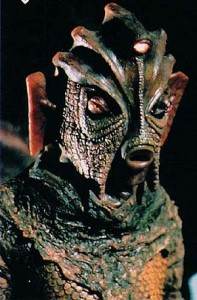 While we saw a glimpse of the Silurians in the promo for series 5 of the rebooted series, we didn't really see anything other than a lizardlike head bursting from the earth, disrupting the Doctor and Amy's stargazing session. If that look wasn't enough for you, we have more. The picture on the above depicts the Silurians as they'll appear in the two-parter "The Hungry Earth" and "Cold Blood," episodes eight and nine.
What exactly are the Silurians? Well, they were, according the mythology of the series, the first sentient species on the planet. They lived in the prehistoric times until they were forced into hibernation by natural factors. They were heavily scientifically advanced, and they popped every once in a while to try and take over Earth. The fact that they looked like walking fish didn't help them out. Now, Stephen Moffat and his crew have transformed the not-so-threatening Silurians of yesteryear (left) into the more threatening, Teenage Mutant Ninja Turtle-looking modern Silurians.
What do you think? Do the Silurians look like they'll be good antagonists to the Doctor? Do they deserve a two-part episode? Which old-school Who villains would you like to see brought back into the series?