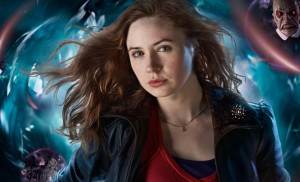 Amy Pond is having a baby. Or rather, she will become pregnant before the end of the season. May 15's episode seven, "Amy's Choice," will skip forward another five years into the future (At this rate, Amy will be 76 by the end of the season). Obviously the events of "Vampires of Venice" will separate the Doctor and Amy for that length of time, possibly leaving her in a life with Rory, her fiance whom she blatantly tried to cheat on with the Doctor at the end of "Flesh and Stone."
She'll also be pregnant when the Doctor returns.
Of course, one would assume that the baby is Rory's, right? Not so fast, a source for Digital Spy claims. "Viewers will have to wait and see how the pregnancy came about, but as always with Doctor Who, things are not always as they appear."
Now, that might just be me, but I'm thinking that the baby could possibly be the Doctor's? It's a stretch, but after Amy's behavior in the denouement of last week's episode, I suppose anything is possible for the Doctor. He did protest her advances, but very reluctantly, it seemed. Could he have given her a visit in that five year gap that the audience doesn't know about yet?
Here's the synopsis for the episode:
Amy travelled in the TARDIS with the Doctor five years ago. As she is just about to give birth, the Doctor returns and Amy has to make a life changing decision.
One more interesting thing about the episode – the villain will apparently be a being known as the Dream Lord (played by Toby Jones, whom you may know as the voice of Dobby from Harry Potter). It sounds like a very malevolent, but very cool villain.
What do you think? Is Amy the Doctor's baby mama, or am I barking up the wrong tree? And how exactly does this mysterious Dream Lord play into it?